2016 was a good year for music. It was so good that when it came time to compile a list of the best Hey Oh! songs of the year, the list was expanded to 40 songs as opposed to the traditional 30. It was very exciting.
Fast forward a year and as 2017 draws to a close, not only has the year been kind of terrible overall, it's also been somewhat of a lackluster year in the old music department. The big albums, the releases that stop the world for a brief period of time, just didn't seem to be there. It's not as if there weren't attempts to drop big time releases, but the hits just didn't seem to land, they didn't seem to have the staying power that gigantic releases might have had in previous years. I'm starting to think there might be something to this idea of albums becoming a relic of days gone by.
As a result, 2017 was dominated by songs, not albums. This isn't exactly a new phenomenon, but it's definitely one that took a big step towards legitimacy as the ruling party this past year. I really feel like we're only a few years away from albums becoming borderline obsolete. They'll still be there of course, but they'll become after thoughts, more like compilations of previously released material than showcases of new work. I'm not one to shower too much praise on Drake, but when he released More Life earlier this year his insistence that it was a playlist, not an album or a mixtape, was kind of laughable at first. It felt like it was just old Drake being Drake, doing something fairly basic and then claiming it wasn't. But now with the benefit of hindsight, young Aubrey might have been onto something. Playlists are the way of the future, taking out the knees of the cultural impact of albums. Playlists are what people turn to in their musical times of need. They just might be the way things are done in a few short years.
Drake might have been right.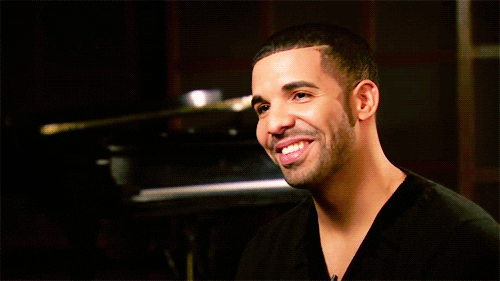 Settle down, Drake. The best track on your playlist might not have even been yours.
So let's look at the best Hey Oh! songs of the year. But before we do, a reminder that these aren't the best songs of the year or the most popular ones. These are the best Hey Oh! songs, a designation that first became official back in 2013.
"What's a Hey Oh! song you ask? It's a song that when it came on incited an unsolicited, deep from the belly & soul Ron Burgandy quality Hey Oh!  Hey oh! That's a damn good song. You might not have said it out loud, but you definitely thought it. You turned the volume up, you danced, you pressed repeat and yelled to no one in particular- DJ ONE MORE TIME." – me, 2013
And as was cleared up last year, there are different variations of Hey Ohs! in play here. There are of course enthusiastic Hey Ohs! and surprised Hey Ohs! and oh, I like this Hey Ohs! as well as Hey Oh! that accompanies a generally silent nodding in agreement. This distinction is important to remember as you read through this year's list. As in previous years, the 35 songs below are broken down into categories.
Old Standbys Showing That They've Still Got It
Songs by some of my favorite bands and musicians that prove that they haven't lost a step
Let's See What You've Got The Second Time Around
Songs by bands who came out swinging with solid debuts and were able to follow it up with killer sophomore releases
And Who Might You Be?
Songs by new bands and musicians who broke onto the scene in 2016
Enough People Talk, I Listen
Songs that have been talked about on the Internet, on the radio, on the Twitter, on the whatever, and as a result, songs I found myself listening to
Discovered During Sports Radio Commercial Breaks
Songs that were on the radio when sports radio either went to commercial or I just needed a break
This year a new category has been added.
Spotify Radio Station Finds
Songs that I discovered while listening a Spotify radio station
Okay, let's go. As always, this year's list is available on Spotify.
Old Standbys Showing That They've Still Got It
"Run" Foo Fighters
I thought we might not see the Foo Fighters in 2017. I thought they were taking the year off. Jokes on us though because not only did they come back, they came back with an effin' vengeance. "Run" starts out soft, wistful, almost ethereal, but before long it becomes straight up table-flipping music. Listen rock fans, we're possibly looking at the end of the road here, especially when it comes to a band like the Foo Fighters who have been around for over 20 years. That kind of sustained success in rock just isn't going to happen again. Foo Fighters, Pearl Jam – they're the last of the dinosaurs. #hugadinosaur
"Come Together" Gary Clark Jr.
Have I seen Justice League? Not yet. But am I still 100% confident that Clark's cover of the Beatles' classic is the best thing to come from the movie? Oh you betcha.
"The Way You Used To Do" Queens of the Stone Age
You had me at Queens of the Stone Age, produced by Mark Ronson. Yet you also had me confused. What could we expect from such a strange pairing? Well, this song, which somehow perfectly combines Ronson's penchant for vintage-sounding boogie vibes and the desert thump of QOTSA.
"D.N.A."/"Humble" Kendrick Lamar
Kendrick gets two songs on this list because while "Humble" was a shoo-in, I can't listen to "D.N.A." without getting fired up. I hear those first few seconds and I'm ready to go. Where? I don't know. Maybe the store. But I'm going to go with a swagger I wouldn't have had I not listened to "D.N.A." and for that, I am thankful.
"Feel It Still" Portugal. The Man
If you think Portugal. The Man came out of nowhere with one of the most feel good songs of the year, then you could be forgiven. But that doesn't make it right. Woodstock is the band's twelfth release. Dudes have been out there, making really good and interesting music from the wilds of Alaska for a while now. They just happened to catch lightning in a bottle with "Feel It Still." The hope here is that for everyone out there getting hyped for "Feel It Still," they check out the other songs the band has. Grab that "This is Portugal. The Man" playlist from Spotify. Totally worth it.
"Feels Like Summer" Weezer
This song is good. The album it's from isn't. Just wait a year or two for another self-titled, course-correction album from them. It's for the best.
"Hot Thoughts" Spoon
There are very few things in the world that have become as reliable as Spoon. Cereal, Yuengling, Sharpies. That's probably it.
"Slide," "Rollin," "Feels" Calvin Harris & friends
Mr. Harris is another multi-song entry and the reason for this is that I couldn't decide on one, let alone two songs from Funk Wav Bounces Vol. 1. I did put them in order of preference, though. So at least some level of thought went into this.
I would like to quickly add that while these three songs were three of my favorite from 2017, the album they came from is not one of my favorites. It's actually one of the more disappointing albums. These songs are great, but not appropriately representative of the rest of the album. Harris still has those EDM tendencies he can't let go of.
"Only the Wild Ones" Dispatch
Hey, look at Dispatch coming back into my life. Caught me by surprise, I had kind of written them off a few years ago, thanked them for their service and the role they played in my life over a decade ago, but moved on nonetheless. Then I heard this song on a whim and then I couldn't get enough of it. I like that it has a Paul Simon-vibe to it and I've always been a fan of Chad Stokes' voice. To be clear, Dispatch and I are not back together, but we're at least talking again.
"Little Bird" The Ghost of Paul Revere
"Montreal," the first single off of the Ghost's 2017 album Monarch, was the first to grab my attention, but as far as reactions go, "Little Bird" made a better first impression. Not a slight on "Montreal" by any means. That song is beautiful, it just took me a little while to realize it.
"Shine on Me" Dan Auerbach
This dude's never going back to the Black Keys. I don't even think it's a question anymore.
"All Is Quiet on the Western Prom" Spencer Albee
Winner: Song I Hummed the Most While Walking Around My House
"Passionfruit," "Skepta Interlude" Drake
But you know, I don't care for how "Passionfruit" starts then stops, then starts again. Damn it, Drake. Stop getting in your own way!
"Here Come the Girls" Stanton Moore ft. Cyril Neville & Trombone Shorty
Moore, the drummer for Galactic, released a solo album this year and as to be expected, it runs the gamut of Moore's influences and preferred styles. There's jazz, there's groove heavy jams and there's the opening track "Here Come the Girls," which pays homage sound-wise to Moore's home base of New Orleans.
"Santiago" Preservation Hall Jazz Band
Another fine example of some good time, New Orleans party music. Maybe we need more of this in our country right now. I instantly feel a little better about things with this song blasting. I mean, I don't feel great, but good. I'll take good. It's better than effin' awful. Try it. Next time you decide to scroll through Twitter, put this song on, turn the volume on, then head to Twitter down. I think it'll help. At least a little.
"You're The Best Thing About Me" U2
I just, I don't know. U2 is in a weird place right now. On the one hand, I think it's admirable that they're out there, continuing to make new music, push boundaries and hold onto the title of Biggest Band in the World. On the other hand, watching them this past weekend on Saturday Night Live, there was something off about it. Maybe it was the venue. Maybe at this point U2 only exists on big stages, in big arenas. I don't know. I also think the baggage they carry is hurting them right now. People still feel weird about the whole hey, we put our album on your phone thing. And that's justifiable. Either way, this is a good song and their new album is also good. U2 used to only do incredible, so good is a step down. But it's still good and that counts for something.
"Living On the 110" Prophets of the Rage
The band is new, but the people and the sound isn't. It's nice have the sound of Rage Against the Machine back in our lives. Although I will say that I expected more from these guys, especially in the age of Trump. I guess I just expected to them to be more active, more visible and up to the task of providing the soundtrack for the resistance. They've been kind of on the sidelines, though. That's disappointing.
Let's See What You've Got The Second Time Around
"Near To The Wild Heart Of Life" Japandroids
This section features a couple bands whose albums were among my most anticipated of the year, based in large part to how much I loved their last album. None of them disappointed, which is nice and refreshing. As for Japandroids, they came back with more big-boy sounding anthem-ready rock songs. Just what I was hoping they'd do.
"Hook, Line & Sinker" Royal Blood
When Spotify tells me what songs I listened to the most in 2017, I expect at least three songs by Royal Blood to be there. As well as "I'm Still Standing" from the Sing soundtrack because my daughter is obsessed with that song and we listen to it every single day.
"Green Light" Lorde
On this week's episode of Differing Opinions on Drake we stumbled onto the realization that Lorde might have taken too long in between albums and that would be the reason for why this song and her 2017 album Melodrama weren't more popular. It has to be because it's a good album and it wasn't long ago that we all loved Lorde and were fascinated by her. Yet it seems like it's all fallen upon deaf ears, which is a shame. I bet she makes a comeback, relatively speaking, but for it to happen, I think she needs to follow up Melodrama with a good new album in 2018.
"The Wanting" J. Roddy Walston & the Business
Man I was so excited for a new album by these dudes. I'd say they were in first place in terms of eagerly-awaited follow-up albums, narrowly edging out Royal Blood.
"LUCKY PENNY" JD McPherson
McPherson had a heck of a good stomping album that came out in 2015 and I was into it. Then I forgot about it. Then I heard this song driving home one day and remembered. That's not a good story, but it's the one I'm going to tell.
"Certain Appeal" The London Souls
I dare you not to like this song. I don't think it's possible. It's one of those songs that exists in that rarefied air of universal likeability. It's simple, has a sweet boogie to it and is fun to play loud. Bing, bang, boom. Case closed.
"Second One To Know" Chris Stapleton
This song makes me want to drink. In a good way.
Halftime Show!
I asked my podcast co-host Elyse to share her five favorite songs from the year.
"Mi Gente" J Balvin, Willy William: Yes "Despactio" was the "song of the summer" but this song just really got me! The latin/afro beat was everything I wanted in a summer dance jam!
"It Ain't Me" Kygo, Selena Gomez: Every year we need an EDM banger, and with Selena and her vocals and Kygo and his fun tropical house beats, this is the perfect song to sing along to out loud and makes you feel good about ditching someone that is no longer good for you.
"Carolina" Harry Styles: I love this entire album from beginning to end (this album was the soundtrack of my May 2017,) all of the songs are great! "Carolina" is a cool folky/pop/rock song and has a fun story about a woman Harry went on ONE date with and was totally into (I stalked the shit out of this story and the person he wrote the story about)! I think this song on the album showcases that he isn't here to be a One Direction-er forever but allows his teen fans to still feel connected to him and lets new fans see he has talent.
"Supermodel" SZA: For her debut full length album this song really starts off a great twenty-somethings album. She is super real and is always using her personal experiences to write songs that connect with everyone. Her musical choices in the percussion and the harmonies are interesting and really go back to that 90s R&B style.
"I Fall Apart" Post Malone: This was on his 2016 album, but the song wasn't released as a single until 2017- I enjoyed Rockstar and Congratulations (both huge hits for him), but this is the song where I really started to listen to how he was trying to be a different type of rapper. With all this nonsense out there in hip-hop and artist not really sounding like they are taking their time to talk about something, this song does that!
And Who Might You Be?
"Blood In The Cut" K.Flay
I don't know who this person is, but I like this song and shockingly, it's the only entry in a section that in 2016 featured in Anderson .Paak, Pinegrove, the Shelters and the Record Company. Why is that? Where are all the new artists? Oh, probably playing music I wasn't into. Looking at you, Khalid.
Enough People Talk, I Listen
"Kiwi" Harry Styles
I didn't just sleep on Styles' album when it first came out, I ignored it while taking the trash out, doing the dishes and generally just going about my life. Yet the aforementioned Elyse Washington eventually talked me into listening to it and before long I was making grand proclamations about both the album and Styles himself. Still can't believe he wasn't nominated for a Grammy. Not cool old people who vote for Grammys. Not cool at all.
"Walk on Water" Eminem ft. Beyonce
Cue: introspective and reflective Hey Oh! Also, I highly recommend the Broken Record podcast from Malcolm Gladwell and Rick Rubin and it's first episode, where they talk about this song.
"Bad and Boujee" Migos ft. Lil Uzi Vert
I'm not sure it's "the best song ever," but it is really good and features one of 500+ rappers whose name starts with Lil'. Both pretty cool.
"Rent Money" Future
I like this song. Not really much else to say.
Discovered During Sports Radio Commercial Breaks
"Chained to the Rhythm" Katy Perry with Skip Marley
Perry might have an up and down 2017 and I don't think my affection for this song is shared by many people, but I stick by it. I especially like the chorus. It has just a delightful, little bounce to it. And another Marley? I've never been to Jamaica, but in my mind the country's population is at least 60% Bob Marley offspring.
"It Ain't Me" Kygo ft. Selina Gomez
Runner-up: Song I Hummed the Most While Walking Around My House
Spotify Radio Station Finds
"Run Up" Major Lazer, PARTYNEXTDOOR, Nicki Minaj
As long as Diplo is out there producing records, a song of his will find it's way onto one of these lists. Period.
"Two High" Moon Taxi
This song reminds of Local Natives. Not so much in how it sounds, but how it sounds like it sounds. It sounds unique and delicate, percussive, but not thunderingly percussive. There is life to this song, but not like the kind of life that is in a Japandroids' song. That life is reckless and wild. This life is green tea and NPR and an outside temperature of 72 degrees.
"Detroiters Theme" DISTINCT LIFE ft. 6aamm
I think Detroiters was a show on Comedy Central starring Richard from Veep and a dude from Saturday Night Live. I've never watched a minute of it, save for the random brief clip posted to Comedy Central's Instagram page. But I'm a fan of the show based solely on how much I love it's theme song. I want this to my theme song. Please. We can work this out, DISTINCT LIFE. I'm open to ideas, provided those ideas are relatively similar to this song.
"Habbie Dabbie" The Texas Gentlemen"
Going out on this song.
See you next year.
---
---
Categories: 2017