I can say that without any trace of hyperbole that when I heard "Heavy Bells" by J. Roddy Walston and the Business it was a life-changing experience. The song had damn near everything I loved in a rock song. It had a bounce, it had volume, it had a chorus that was infinitely enjoyable to sing-along too and it never, ever got old.
After hearing the song for the first time and then several repeat listens, I proceeded to deep dive into the world of Mr. Walston and his business, exploring the album that features "Heavy Bells" Essential Tremors, as well as the two albums that proceeded it. It's somehow been four years since I heard "Heavy Bells" and I still stand by my initial view of the band.
"All I know is that they sound like a dust-up, after hours rendezvous meeting of the minds involving the Black Keys, old Kings of Leon, Jack Daniels, Creedence Clearwater Revival and Band of Horses."
The band's music has a celebratory feel, coupled with personal and honest lyrics that bleed with truth and life experiences. To say that I have been anxiously awaiting the follow-up to Essential Tremors is a massive understatement. I was pumped about, a new Royal Blood album but in that case, I was only a year into my relationship with them. With J. Roddy Walston and the Business, it's a legitimate shock to me that it's been so long since we got new material from them. 2013 seems like a life-time ago. Life was so much simpler then. I didn't mind push notifications.
On Friday the band is releasing the long-awaited, eagerly anticipated here in the Giddy Up America home office, Essential Tremors follow-up, Destroyers of the Soft Life. Thankfully it's not all that much of a departure from what they've done in the past, if anything it's a slightly more refined and more mature spin on their sound. I appreciate that. I like when bands stay in their lane. The songs are big, loud and rowdy, but also at times, soft and reflective.
Here is the track-by-track .gif review of Destroyers of the Soft Life, featuring .gifs of the win, dance, repeat victory celebration performed by the Red Sox outfield. Somehow combining the two made sense to me.
"You Know Me Better"
"Blade of Truth"
"Numbers"
"Ways & Means"
"Heart is Free"
"I Called You"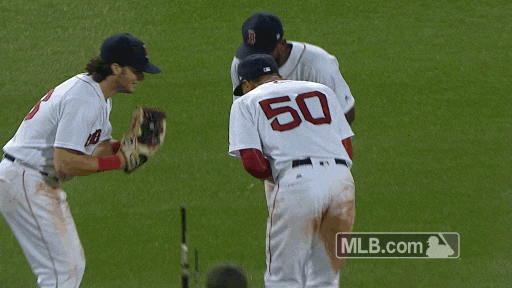 "The Wanting"
"Bad Habits"
"Bleed Out"
"Burn Black"
---
---
Categories: Music