Sunday night the New England Patriots lost to the Detroit Lions by a score of 26-10. That would make two straight losses for the defending AFC champions, with them having lost to the Jaguars last week. You did not read the wrong. In consecutive weeks the mighty Patriots fell to the Jaguars and the Lions. It puts their current record at 1-2, with their lone win coming in week one, when they beat a Texans team that everyone is quickly realizing is not as good as everyone originally thought. Next up for the Pats is the undefeated Miami Dolphins. Given how the Patriots played Sunday night, the idea of them leaving September with a record of 1-3 isn't all that inconceivable.
The loss on Sunday has lead to a tornado of rationalization and hedges on my part and most likely on the part of other Pats' fans, as well as attempts to make sense of the current state of the Patriots and their future outlook. Obituaries have been penned around this time of year almost annually over these past few years and the team's performance Sunday night will definitely get the motors of NFL writers and pundits revving. Is the Patriots' dynasty over? Is this the beginning of the end for Brady and Belichick? Is the AFC East finally up for grabs?
The questions will continue to come as long as their is blood in the water. Such is life when you've been as successful as the Patriots have been over the past 18 years. But as a fan of the team, I have to say, Sunday did not feel great and while I'm far from giving up on the team, I have to say, I could use some reassurance. I must take upon myself to pick myself up. It's what Tom Brady would do. It's what I will do.
The Patriots are off to a 1-2 start
Yeah, but it's not like this hasn't happened before during the Brady/Belichick era. It just feels that way.
2001: The Pats start 1-3, finish 11-5, win the Super Bowl
2012: The Pats start 1-2, finish 12-4, make it to the AFC Championship Game
2014: The Pats start 2-2, finish 12-4, win the Super Bowl
One of those losses in 2014 was a massively demoralizing loss to the Chiefs on Monday Night Football. The 2014 season got so dark at times I even felt the need to try and cheer Brady up. I'm not saying me doing so turned things around for the team, but I am implying it may have helped.
And then last year, the team were again beaten by the Chiefs in the season opener before finishing 13-3, winning in dramatic fashion over the Jaguars in the AFC Championship game and almost winning the Super Bowl. Man, good thing they don't have to play the Chiefs this year, huh?
Moving on!
The Past is the Past, This Time Feels Different
Yeah, but while that may true, it…well, that may true. In the past when the Patriots started off poorly it felt frustrating. This time it feels slightly more disheartening. Either way, doesn't feel good, but thanks for asking.
The Pats Offense Lacks Weapons
Yeah, but hold on a minute there, buster. The team's number one receiver, Julian Edelman, is a week away from returning from a four-game suspension and his return will free up Chris Hogan, who has been forced to replace him, despite not really being a slot receiver. Damn it, Bill. All quick, white wide receivers aren't the same! Get a clue. #staywoke
Also, not sure if you heard about this, but the Patriots picked up troubled, yet talented Josh Gordon from the Browns last week and unless something weird happens, he'll be making his Patriots-debut next week versus Dolphins. Even if the Pats get 70% of what Gordon is capable of, it's still better than 100% of Philip Dorsett. Adding both Gordon and Edelman will help the team on a couple levels. As previously mentioned, it will allow Chris Hogan to be Chris Hogan (i.e. fast, streaking down field and never, ever blinking,) it will free up the team's pass-catching backs like Rex Burkhead and James White and in Edelman's case, it'll create some sense of familiarity for Brady. Brady operates best when things are moving quickly and he can change things up on the fly. If he doesn't even know a dude's middle name, which is definitely the case with Dorsett, how can he be expected to convey a change in play via eye contact? Brady and Edelman speak the same language. It's called handsome and it's extremely effective in crunch time.
Gronk Has Looked Definitively Un-Gronk Like So Far
Yeah, but that's another benefit of Gordon and Edelman being on the field. I can't confirm this, but I'm sure Gronk had the entire city of Detroit covering him last night. And why wouldn't they? He was all the Patriots had. He was double and tripled-covered and that was once he got off the line. Even doing that was a chore for Gronk Sunday night.
https://twitter.com/ftbeard_17/status/1044059162341044224
Teams won't be able to devote so much man power to Gronk with Edelman and Gordon out there. Give it a few weeks and Gronk will be back to tearing off down the seam and being the Gronk we've come to expect.
These Gronk Was Almost Traded Rumors Are Just Going to Continue
Yeah, but anyone who follows the team and the reporters who cover the team aren't surprised by these rumors and these reports. They've been out there for a while now. It's all noise at this point. I find them annoying if I'm being honest with you.
Although, it might kind of, sort of be a little concerning because of Belichick's pretty spot-on track record of cutting bait with dudes at just about the right time. Whether it was Richard Seymour, Jamie Collins, Logan Mankins or Randy Moss, Belichick has been ruthless, but effective at jettisoning dudes right before the wheels fall off. If he was willing to trade a player like Gronk, you could, if you were a heartless masochist, possibly read into it that he saw the end coming in hot when it comes to Gronk's career and felt the time was right to deal him.
Damn it.
No, screw it. Gronk will be fine.
Moving on again!
The Pats Miss Dion Lewis
Yeah, but…they do. Can't really talk myself out of that one.
Sony Michel ain't no Dion Lewis
Yeah, but no one is Dion Lewis and maybe, just maybe Sony Michel could become really good in his own right. I mean, it didn't look that way Sunday night, but I'm willing to give it some more time. Not a lot of time, but definitely some more time. Maybe like a week or so before I'm talking myself into the idea of the Pats trading Jonathan Kraft, a 100 foot schooner, Martha's Vineyard and an ownership stake in TB12 for Le'Veon Bell.
You don't need to ask. If the Steelers want Philip Dorsett I'm okay with that.
The Defense Looked Horrible Sunday Night
Yeah, but that's true. Not really going to say it wasn't. But it's also not like it's the first time New England's defense has been filled with more holes than the plot of Jurassic World: Fallen Kingdom. A clone girl unleashed a horde of dinosaurs on northern California and everyone is cool with it!
The Pats' defense was ranked 29th last year and made it to the Super Bowl. Of course they got shredded in said Super Bowl, but they made it. Over the past decade the Patriots' defense has all but trademarked the idea of bending, but not breaking, and while it's not pretty to watch, it can be effective as the defense has been remarkably stout in the red zone. Teams can look unstoppable, marching up and down the field at will. But when it matters, the Pats' defense shows up. Your heart rate and blood pressure go up to. It's tons of fun.
This was actually on display Sunday night. The Lions should have been up by twenty or so heading into halftime, but were only up ten because they had been held to field goals twice. For all intents and purposes, the defense kept the Patriots into the game. Well, until they didn't. But hey, it's not like it's all their fault.
The Defense is Going to Massacred Against the Chiefs in a Few Weeks
Yeah, but that may very well happen, but at least they won't be alone. In the first three weeks, the Chiefs and Patrick Mahomes have put up 38 against the Chargers, 42 against the Steelers and 38 against the 49ers. None of those are elite units, but they aren't chumps either. So really, it doesn't matter how good or how bad the Patriots' defense is. The chances of them getting lit up by the Chiefs are pretty good.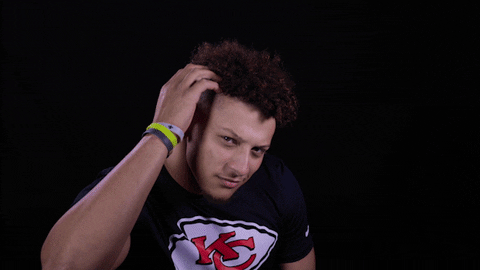 However, it's not as if the Chiefs' defense is all-worldly and that alone is enough to give Pats' fans hope.
According to ESPN's rankings, the Chiefs' defense is currently ranked 32 out of 32, two spots below the Patriots. The October 14th game between the two will most likely be a shoot out with a combined over/under of at least 80 (take the over.) By that time the Patriots will have Edelman and Gordon back in the mix and with their previous game being a Thursday night game, they'll have had extra time to prepare for the Chiefs' game. Again, it won't be pretty, but it might not be as dire as one would think.
So see, everything is fine.
---
---
Categories: Sports