Dear Members of the New England Patriots Organization,
First off, congratulations on your win yesterday. Hope you all didn't party too much last night. Ha, ha, ha…we're friends. Anyway, the reason why I'm writing to you today is that I feel the need to apologize to all of you, from the staff to the players, to Robert Kraft to the person who cuts the sleeves off of Bill Belichick's shirts. I'm sorry. I truly am sorry.
Why am I sorry is that to be honest, 100% honest with you…again, because we're friends, I may have felt some slight pangs of doubt at times during Sunday's AFC Championship Game. I'm sorry, but it's true. It just didn't seem like the Patriots' day. It felt like the Jaguars' day. The game, especially through those first three quarters, felt way to similar to games versus the Jets back in 2010 or versus the Ravens a few years later, games in which the other team's defense was dictating the terms of the game and their offense was exceeding expectations, and to be honest, pulling (expletive deleted) out of their (expletive deleted) asses. The Jags' defense was almost eerily reminiscent of the Jets' defense under Rex Ryan. They were cocky, chesty, aggressive and good. And just like with the Jets of old, I didn't much appreciate their attitude.
But I digress, I think the lowest point was when Dion Lewis fumbled early in the fourth quarter.
If successful, that play seemed like the ONE play the Patriots' needed to get some real momentum going. Up until that point the offense had been largely contained and kept at bay by the Jaguars' defense. The play was exciting, thrilling, a jolt of excitement causing me to initially raise my voice in a positive direction and then unfortunately veer off into a negative direction. It was one of those sequences that smelt like doom and milk past the expiration date. I dipped into despair and again, being completely honest, began the rationalization process.
The Rationalization Process
The Patriots won the Super Bowl last year, a game in which they came back from being down by 25 points. It will likely never get better than that.
The Patriots won the Super Bowl two years prior to that, winning on a thrilling interception by Malcolm Butler. It felt like it will never get better than that.
Since 2001, the Patriots have won five Super Bowls, appearing in seven. They could have won those other two had some supernatural, demon force not intervened.
The chances of the Patriots being in contention to make it to the Super Bowl next year are good. They will always be good, provided Bill Belichick and Tom Brady are around.
I could be a fan of the Titans or the Bengals or the Lions or God forbid, the Browns.
I should feel #blessed to have been able to watch Brady all these years, to have the greatest football player ever play for my favorite team and lead it to such astounding heights.
Repeat no. 1
Repeat no. 2
Repeat no. 1 (again)
Time for a beer
But the Jaguars didn't capitalize on that fumble and quickly went three and out, punting. If there was a chance, this was the chance. This was when something would have to happen and I felt maybe it would, but maybe it wouldn't and based on the past forty minutes or so it kind of felt like maybe it wouldn't, but who the hell knows, but maybe I do know because I've been watching this game since the opening kickoff and we should recognize trends when we see them and the trend of the game seemed to be that the Patriots' defense, especially without Rob Gronkowski, looked borderline pedestrian against the Jaguars' defense and looked unable to get any kind of…
Well then that happened and hold on a second. Maybe, just maybe. Maybe the Patriots can pull this one out. But let's stay measured. Let's stay grounded. Let's keep the profanities to a minimum because there is a child present and she's watching Paw Patrol on your wife's phone and not the game, but she has ears and you tend to curse LOUDLY at times like this and we should be role models for our children. We should teach them how to act and more importantly, how not to act. It's Sunday evening. Let's keep it civil.
For the children.
With that being said, I celebrated this touchdown with the demeanor of a cubicle-dwelling businessman gently fist-pumping after a successful sales call. All business. My daughter had moved on to painting, but she was still within earshot. Role model. Stay grounded, there was still plenty of time left.
And while yes, I did start to feel a slight glimmer of hope and well…did I at this point start to imagine watching the Patriots in another Super Bowl? Yes, yes I did. Because then the Jaguars' offense was stymied again and the Patriots had a chance again but the Patriots blew that chance and punted but then the Jags again didn't do anything and were forced to again punt the ball away. I did math. It was 20-17. All the Patriots needed a field goal. Not bad. Overtime. Not bad. Dinner can wait. This is important. I mean, a touchdown would be dope, but a field goal would…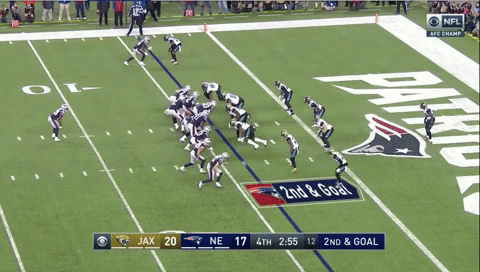 …disregard.
And now I'm sitting here, still watching highlights, still reading about the game, still thinking about the game and now looking ahead to another Super Bowl and I feel ashamed.
Have I learned nothing from all of these years? Have I forgotten all of the comebacks that Brady has engineered over the years? Dude, have I forgotten LAST YEAR'S SUPER BOWL WHEN THE PATRIOTS CAME BACK FROM BEING DOWN 28-3 TO WIN THE GAME? I felt like I had. Trends, man. The thing about being mindful of trends is that one needs to be mindful of the varying levels of trends. Of course there was a trend happening in the immediate, in the present, in which the trend was the Jaguars were good, the Patriots weren't as good. That was a definitive trend and worth taking note of.
But as important as that trend was, it would be foolish to ignore another trend, one that was over-arching and a trend over a much longer period of time. That trend was the one in which the Patriots look out, they look down for the count and they look as if finally, the party is over, but then Tom Brady gets the ball, marches them down the field and they win. Within a hierarchy of trends, that trend is above the trend of Sunday's game. So we have to then ask ourselves, do we believe the trend happening right in front of us or the trend we have long come to accept as a reality?
Or do we talk ourselves into this kind of nonsense because deep down we feel a little ashamed that we even doubted the Patriots?
Yeah, that's probably it.
I took some pride in my ability to not over-react early this season when the Pats looked…well, you know…not good. I acknowledged it was September and told anyone who would listen that Belichick doesn't care about September, how he just views it as an extended preseason. I told myself to stay cool and see how October went.
In past years, when the Patriots stumbled out of the gate, I would get frustrated. Just like everyone else. I heard the noise and I accepted the noise. But not this year. This year, as people knocked the defense and talked about Brady's age, I stayed measured and didn't waver. I dipped into The Rationalization Process a little, but mainly tried to stay positive. I had learned from my mistakes. I was very proud of myself for doing so. I probably told my wife about this more times than she'd ever want to hear it, but I didn't care. I was a mature, grown-up who had learned from the error of his ways and had changed those ways.
Until Sunday.
I had ultimately learned absolutely nothing apparently.
So I would like to apologize on behalf of my actions, my emotions, my penchant for pessimism. I would like to apologize for my inability to learn from the past, for not respecting all of these years and all of the success.
I would also like to apologize in advance because if we are talking about trends, then I can't ignore the trend that is me finding ways to doubt the Patriots and then be proven wrong when it comes time for the Super Bowl.
Go Pats.
Sincerely,
Ryan
PS. Is Gronk ok?
---
---
Categories: Sports