Sunday night's Golden Globes were a solid pretty okay. They weren't a train wreck, but they also weren't the entertaining three hours the show had been in year's past. Of course Monday morning the big story is Meryl Streep's acceptance speech, but other takeaways was the crowning of La La Land as the movie of 2016 and…uh…well, those two things might be it.
But what else happened Sunday night? Let's take a look at some winners and losers.
Winner: Meryl Streep
Streep, who won something called the Cecil B. DeMille Award, which is refreshing because finally Streep wins something, took aim at our president-elect in her acceptance speech. That in of itself is not all that noteworthy. What is is how she did it by first naming the various actors in the crowd from foreign countries then pivoting to He Who Shall Not Be Named, specifically citing the incident when he openly mocked a disabled reporter. It was a heartfelt and beautiful speech – not over the top or abrasive. I felt like it came from a very human place. She finished by calling on the audience to support the press and the media, support they will most certainly need in the coming years. Hey, good work Meryl. Here's to you.
Loser: Trump
Because if Streep wins by calling him out for making fun of a disabled person, he loses.
Loser: Tom Hiddleston
Using your acceptance speech to call attention to a specific cause that is important to you is of course a perfectly normal and acceptable thing to do. But slipping in a humble brag in the middle of said speech is decidedly not cool. Oh cool, you were spending time with aid workers in South Sudan. Good on you. Yeah, but you lost me when you talked about them binge watching your show during a shelling and how wonderful that felt. Try sticking the landing a little better next time buddy.
Winner: Christian Slater reaction shots
Slater, nominated for his work on Mr. Robot, was also in the audience to serve as our collective thought bubble and facial reaction to Hiddleston's speech.
I felt the same way, Christian. We all felt that way.
Winner: Funny People
Specifically Kristen Wiig and Steve Carell, who once again proved that the only truly funny people who present at award shows are professional funny people.
Loser: Jimmy Fallon
Everyone knows hosting an award show is like trying to nail your limo introduction on The Bachelor, it's generally a losing situation. Yet in past year's the host of the Globes has had it easier than most. The room is looser, the crowd is gamer. Ricky Gervais was great the first few times, not-so-great during his most recent time. The dynamic duo of Tina Fey and Amy Poehler were fantastic when they hosted, due in large part thanks to their ability to be both funny and charming as well as to be able to deliver comedy with an edge to it. Fallon has absolutely no edge, which works on his talk show but didn't during the Globes. It's not a place for fan boys and Fallon is the ultimate fan boy. Plus, the Globes were the first event to happen in the wake of the election and therefore, was ripe for some well-placed shots at our president-elect. And while Fallon tried, it was going to be hard because of you know, this…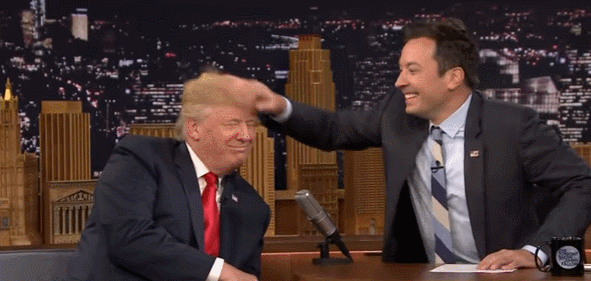 He might have fared better had he referenced that unfortunate incident or somehow made fun of himself for it. But he pretended like it never happened. Oh but it did happen sir and a lot of us haven't forgotten about it. Oddly enough, a lot of us will forget your hosting performance. Life is tough that way.
Winner: Atlanta
I was genuinely happy when the show won. I mean, not as happy as Lakeith Stanfield, but who could be?
Loser: The "struggle" to make a musical
In accepting the award for Best Director, Damien Chazelle, the director of La La Land, made it seem as if attempting to make a big time musical was an act of courage and persistence and a miracle that it happened. Dude, we are living in a post-Hamilton world. Last week's episode of It's Always Sunny in Philadelphia was both a musical and a homage to musicals. Musicals are in homey. The struggle you are referring to is most definitely not real.
Winner: Ryan Gosling
Homeboy thanked his wife in the best way possible. I think one or two ladies out there may have crushes on Mr. Gosling this morning.
Loser: Tom Hiddleston
No really, your speech was a dumpster fire.
Winner: The Crown
Yo The Crown was really good. I mean, did it deserve to beat Game of Thrones? Hell no. GAME OF THRONES IS MAKING AN EFFIN' MOVIE EVERY WEEK PEOPLE! But this is the Golden Globes and just like my daughter, they are drawn to things that are bright and shiny and new. There was no way Game of Thrones was going to win and there was every way The Crown was.
Loser: The Americans
The Golden Globes were the latest example of proof that right now, it's hard being an American. Somewhat related though, does the fact that our president-elect is basically spitting in the face of our country-wide, universally held belief that Russia is bad change the way we view The Americans? Is he now going to ruin the best show on television, in addition to practically everything else? That might be where I draw the line. Life really is terrible right now. If only I had The Night Manager around the binge to ease the pain.
---
---
Categories: Television