So Galactic, the funk/jam band from New Orleans, is one of my favorite bands. I can't imagine a world where I didn't listen to Galactic at least once a week. Galactic is from New Orleans and as their career has gone on, they've become on those bands that has created an orbit of bands around them; bands that either share some sort of relation to them or connection or geographical proximity. They seem firmly entrenched and committed to the New Orleans scene and as a result, a lot of the bands in their orbit are from the city. One of those bands is the Revivalists, a band that has become of my favorite bands I've come across in the past year or so.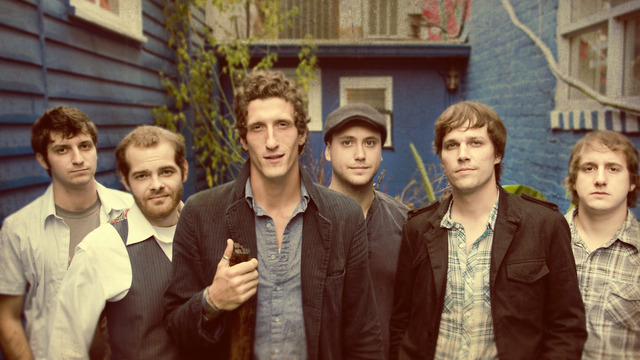 Truth be told, I'm not totally sure when I started listening to the Revivalists, a roots rockish sounding band with some Caucasian funky tendencies, but I think a safe bet is that I found about them thanks to Galactic. David Shaw, vocalist for the Revivalist and Sideshow Bob-look-a-like, chipped in vocals to "Hey Na Na," a track off of Galactic's 2012 album Carnivale Electricos and I remember being instantly drawn to his voice.
His voice has kind of a plainly dressed swagger to it. It's not too over the top; it's not trying to be something that it's not. Shaw's voice is incredibly honest sounding and I like that. Shaw would again work with Galactic on their next album, 2015's Into the Deep, appearing on the infectious and funky as all hell "Dolla Diva."
Yet in between those albums, I became aware of Shaw's band, the Revivalists. I want to say that their song "When I'm Able," off of their 2014 album City of Sound, showed up on a Spotify radio station, because it was definitely the first song of theirs I heard.
Not blowing smoke up anyone's ass here, but the song really didn't sound like anything I heard before. It was familiar because nuggets of it had traces of Dave Matthews Band, Galactic, early Widespread Panic and JJ Grey and Mofro. The rest of the album is kind of like the city of New Orleans itself in that there's a little bit of everything scattered throughout. There's funk, soul, roots rock, groove rock, white boy soul and more straight forward rock 'n roll. What's nice is that it's not as if one song is one genre, the next song is another genre and so on and so on. Every song seems to pull from multiple genres. Case in point, the song "Criminal," which has the feel of a rock song, but has some New Orleans' funk undertones running through it like electrical currents.
City of Sound isn't the band's first album, they had two independent releases before it, but if we're being honest (and I'd like to think we are, you know, because we're friends) I couldn't really get into those albums. Sometimes when you get into a band a few albums in, the early albums can be a goldmine. However, in some cases, they can sound a little too much like the band you discovered trying to find itself and they have a little much of a "how the sausage is made" vibe to them. I think that's the case with early Revivalists' albums so if we're okay with it, I'm confident picking up our relationship with City of Sound. 
In 2015 the band dropped the follow-up to City of Sound, the more polished and focused sounding Men Against Mountains. The production is better and the songs are definitely a step up and that's in no way a dig at earlier tracks. The band plays with dynamics more and taps into a little bit of Hall and Oates, especially with the album's opener, "Keep Going."
Some of the tracks on the new album feel like they could definitely hang with some of the music coming out of this quasi-soul revival happening – talking about bands and acts like St. Paul and the Broken Bones, Leon Bridges, Nigel Hall, Anderson East, the Suffers and the Greyhounds. One of those tracks is "Wish I Knew You," which has been making the rounds on satellite radio and has no doubt introduced the band to a good number of new fans.
But just as easy as it is to associate the Revivalists with those neo-soul acts, you could put them next to a rock band or energy-filled and action-packed funk act. The new album definitely has the group expanding their sound and operating under a larger tent. Men Amongst Mountains is definitely an album that the band can build on and use as a catapult. It sounds big, perfect for larger rooms and festivals. Yet it also has an intimacy to it that would make some songs feel just as comfortable in a much smaller space.
Versatile bands are where it's at these days. Main genres are just jumping off points now, easy ways to label an act and explain them to someone. The Revivalists are an extremely versatile band, capable of providing a quality soundtrack to a variety of situations, which I for one, love. I've long made the argument that music is inherently situational and that the music that can defy one or even two situations – music like Bob Marley, A Tribe Called Quest or even Galactic, has a leg up on the competition. The Revivalists are the latest act to fall in with those groups. You could listen to them out on the porch, while having a bar-be-Que, you could listen to them driving along at a speed that could be deemed slightly reckless or you could listen to them while indulging in some quality quiet time. They have music that would easily fit any of those situations.
Oh, and they seem like they're pretty fun live to. Bonus.
---
---
Categories: Music