The Chicago Cubs won the World Series. The only way that sentence isn't crazy to you is if you are 109 years old and reading this. The Cubs did though defeat the Cleveland Indians in an absolutely amazing, exhausting, thoroughly entertaining game seven Wednesday night and today, Friday, they will the team will ride victoriously through the streets of Chicago. By Sunday, this will all be a distant memory and we'll have completely forgotten about it until we all start looking back at the year that was as we creep closer to 2017.
There were other winners of the 2016 World Series than the Cubs, just like there were other losers besides the Indians.
Winner: Old people
Old people are largely thought of as dangerous behind the wheel, CBS viewers and the only voting block in America that still regularly use a landline. We don't think much of old people unfortunately and unless it's their birthday or God forbid, their funeral, we tend to forget about them. Not during the past two weeks though! With both the Cubs and Indians looking to break incredibly long losing streaks, old people and their lifelong allegiance to both clubs became national stories and when the series finally ended, there was no shortage of pieces framed around this is for my dad and I thought of my grandmother, who never missed a Cubs' game. Old people, specifically old women, have another week in the spotlight with the Presidential election, so live it up senior citizens of America and we'll see you at the holidays.
Loser: East Coast viewers
I know the country is enormous. You know the country is enormous. We have these pesky time zones and understandably, these time zones need to be taken into consideration when it comes to airing national sporting events. But dude, if you live on the East Coast you get eff'd. This isn't new by any means, but it doesn't mean it still isn't a bummer. Wednesday night's game hit extra innings right around midnight. Midnight! Do you realize how close midnight is to the start of the day? Do you realize that young children are going to wake up early, regardless of when their parents went to bed? If you've never watched sports on the west coast, you don't know any different. That might actually be preferred. Because if you've tasted the good life; if you've watched a game and had it end at 9:30pm, it makes it hard to go back to a life where games end after 11pm. We should really just cut America in half and make America 1 and America 2.
Winner: John Smoltz
Smoltz was paired up with Joe Buck for the broadcast of each game, assuming the role once occupied by Tim McCarver. He was really, really good. Calling a baseball game is a delicate art. Serving as the color commentator might just as hard, if not harder. Smoltz, who is somewhat of a novice when it comes to broadcasting, killed it. And as a bonus, he wasn't Ron Darling. That dude is junk.
Loser: White people dressed as Indians
Just stop, white people. I don't care if it you're at an Indians' game or a Washington football team's game. Cut that shit out. It's not cool.
Like really, totally not cool.
Winner: Little Cubs' fans
Just like little Red Sox fans, they will soon only know a world where their team is good and their parents are slightly jealous of that.
Loser: LeBron James
No one forgot you're a Yankees' fan. Just wanted you to know that.
Winner: Steve Bartman
The goat of the 2003 National League Championship Series is off the hook now. I mean, he never really should have been on the hook anyway, but whatever, it's sports. Sports is where irrationality lives and dies. Bartman is good, though. He's still living on the fringes, but he's good.
Loser: Charlie Sheen
In a perfect world, of course the Indians' would have trotted Sheen out at some point, dressed as his character from Major League, Ricky Vaughn. Sheen even offered up his services. Like multiple times.
Unfortunately he was rebuffed every time by both the Indians' organization and Major League Baseball, who instead chose the boring and traditional route of going with former players. Damn it, baseball. We get it. You have a long and storied history. That's awesome but baby, we live in a viral world, I'm just a viral girl and you missed out on a killer viral moment.
Winner: Television Shows
Good news television shows. We're going to watch you again. Sorry we bailed on you for a while. But you understand. It's not like it's the first time it's happened.
Winner: Bill Murray
I'm just kidding. Murray is always a winner.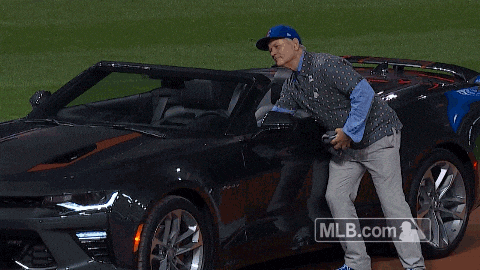 And finally…
Winner: Us
Because that World Series was awesome.
---
---
Categories: Current Events, Sports