Well, friends, it's been almost two weeks since Phish wrapped up the first little jaunt of their summer tour. We've had some time to decompress, reflect, possibly decompress some more, do some homework, and when all is said and done, report back our findings to, I don't know, Twitter. The bottom line is that hey, Phish is back! That's pretty sweet.
But beyond the sweet, sweet pleasure of the boys getting back out there are some tasty little nuggets of Phish-related wisdom we took from the shows. In all fairness, their return was met with mixed reactions, as that first show of the tour was a touch on the bumpy side. And of course, it was! The rust is real! I went back to work for the first time since the shutdown and couldn't remember my voicemail password, had super stale granola bars in one of my desk drawers, wasn't sure how to do small talk with people that weren't my family, and no really, what the hell was my voicemail password and does it even matter because phones are the worst.
So on that note, totally makes sense that Phish was a little shaky out of the gate.
But like my voicemail password, everything came bounding back eventually!
Ha, I'm just kidding. I have no idea what my voicemail password is and truth be told, I don't really care. Don't leave a message. That's what email is for.
By the second show of the tour, Phish had their sea legs under them and was ready to embark on this next chapter in their storied career. Was it a continuation of 3.0 or the start of 4.0 or was it maybe 3.5? I don't know. They got their mojo back right quick and that's all that matters. I'm serious. It's all that matters because fun fact, this COVID thing is still a thing and God knows what tomorrow holds. Phish is slated to get back out there soon but I don't know. If we've learned anything over the past year or so it's that we shouldn't take anything for granted. It could all be gone tomorrow and there's nothing we can do about it.
Well, we also learned the value of leisurewear.
But after that, don't take things for granted. Leisurewear and don't take things for granted. And if that first leg of Phish's 2021 summer tour is all we get from them for a bit, we don't have much to complain about.
Here are some takeaways from the shows Phish played this summer. Plus, stay tuned for a bonus take from A SPECIAL GUEST!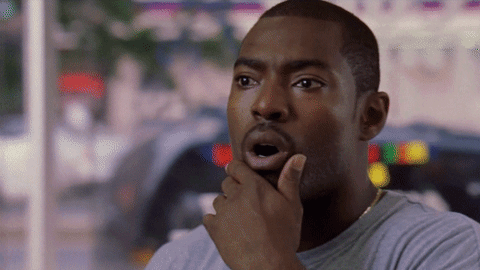 Yeah, a special guest.
And no, it's not Jon Fishman's sampler. That thing's fee is way out of my price range.
Let's get to it.
All Of The Lights
Phish's lighting designer Chris Kuroda has always been something of a visual wizard, constantly finding new ways to play around and experiment with stage lighting, but man, what he cooked up for this summer tour was something special. That shit comes alive. It moves! It shape-shifts and contorts and at one point in Hershey I think it winked at me but I can't be sure. I might have winked back. Who the hell knows, man. It was hot out.
I'm old school and I come from a land where stage lighting is connected, all part of one interlocked system.  I'm sure others have done what Kuroda has done this summer, basically breaking his lighting rig into sections, but I've never seen it before. And if it's new to you, then its best to assume it's new to everyone else because no one wants to feel left out. You know like, "we're all in this together and we love to take a bath" and whatnot.
Now, I pointed this out on the Twitter and someone came flying off the top rope, throwing shade and saying something about Skrillex. Well sir, for starters, "Wild For The Night" by A$AP Rocky featuring this Skrillex fella is an effin' great song. Secondly, I work in events. It's what I do and because of that, I get excited about truly unique production tricks, which is what Kuroda's light rig is.
And yeah, I think the lights might have winked at me at some point.
Ain't No Stopping Him Now
Jon Fishman is a good drummer. He's a pillar of the community in the small coastal town of Lincolnville, Maine and he's a damn good drummer. These are universal truths.
But for a moment, let's go back to the closing ceremonies of the London Olympics. The three surviving members of Queen took the stage to perform, playing "We Will Rock You." And it was fine. Of course, it was fine. Yet what stuck out to me and to this day is something I still think about is how stiff and old the band's drummer Roger Taylor looked. Drummers just don't age well. And it's not their fault! Drumming is a physical, contact sport and for the most part, it's a young man's game.
This was on my mind when thinking about what these next few years might look like with our beloved Fishman. Could he keep up with the style of playing fans were accustomed to? He played some crazy, wild shit back in the day and when the band dusted off one of their oldies but goodies, he would have to get pretty damn close to those legendary parts. Again, drummers don't age well, and again, it's not their fault.
Stuff those worries in a burlap sack and toss 'em in the river kid because ole' John Fishman hasn't missed a beat!
Sorry! I couldn't help it.
The point of the story is that Fishman has been killing it. He's been so tight and on point and JUST LISTEN TO WHAT MY MAN IS DOING ON THE DAMN SNARE DRUM! There's a point in "Run Like An Antelope" from the first Hershey show where he explodes and what's coming from the snare drum sounds like a stampeding band of marauders storming across the plains and who are we to stop them? We can't stop them. It's pointless. It's a stampeding band of marauders. Just give up.
And just enjoy Jon Fishman, friends. He truly is one of a kind.
"Blaze On" Joins The Big Kids' Table
Phish has been playing "Blaze On" since 2015 and it has become a staple of theirs these past few years. Elevating it to the big kids' table shouldn't be a surprise and I'm sure there's someone reading this and sighing because "ugh, my dude, "Blaze On" has been at the big kids' table for a while." Fine. And fair. Totally fair. I never once claimed to be a Phish expert.
With that being said, I do think one of the highlights of this run was the band's "Blaze On" from night one at Deer Creek. "Blaze On" always tends to stretch its legs but this particular version was some high-level business, nearly clocking in at half-hour and in the process, traveling more than most of us have in the past year or so.
You know, because of the pandemic.
Phish has their heavy hitters, the columns of their Parthenon. I'll let other people more in the know when it comes to Phish decide whether or not "Blaze On" has joined those ranks. But if we're casting votes, I'm saying yes.
Lots of good words of advice in there too and in the business, we call that a twofer and twofers are the best.
Covering The Bases (Again)
Back in April, I stepped up to the plate and presented to the masses my choices for the top ten songs Phish covers. And yeah, I got some shit for it. I got a little bit of praise and a little haggling. But I did get some shit and that's cool. One does not write anything on the Internet and then share it without the assumption that it will bring shit down upon them.
Gotta be prepared, kid.
To recap, my list went as follows:
10. "Golden Age"
9. "Sneakin' Sally Through the Alley"
8. "2001"
7. "Ya Mar"
6. "Roses Are Free"
5. "Rock and Roll"
4. "Funky Bitch"
3. "Cities"
2. "My Soul"
1. "Loving Cup"
The biggest error is definitely not including "Crosseyed and Painless." I've lost track of the number of times I've apologized for omitting it. I don't feel great about it. I biffed it. I can own that.
So, where would "Crosseyed" go and what would it replace?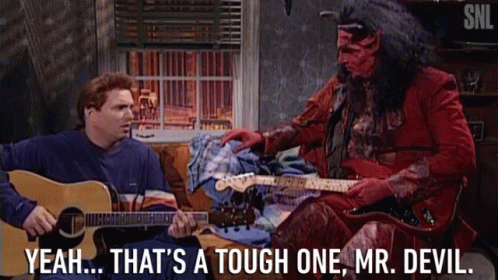 It is a tough one, Garth Brooks. Thank you.
The obvious answer is "Golden Age" and because of my appreciation of Phammer, I feel bad saying it. However, after seeing "Golden Age" in person, I get it. It's much better in person than it is at home. It makes sense in the way four beers on a Tuesday night sometimes makes sense.
But, I feel like the band is kind of using the TV On The Radio song as a vehicle for jams whereas, with other songs on the list, they're tipping their hat to the original and paying their respects. And so, unfortunately, "Golden Age" gets bumped and "Crosseyed" moves in, and while doing so, jumps up a couple spots to the four spot.
Crazy? Yes. A big jump? Totally? Justified? A great show.
Moving on!
And now, our special guest…
Coming in hot from sunny Kansas City, he's a beacon of light in the world of flight that is Phish Twitter, its @Phammertime kids…
Have you ever been standing in the middle of a field, in the middle of America, in the middle of your closest friends, in the middle of a monster jam? What would be your reaction? Well that was me on August 8th and I am here to tell you exactly what came out of my mouth on that precise moment. So many things were running through my head. The emotions and the sensory overload could have prompted anything to leave my mouth but the one thing I did know was that something was coming out. My only recourse was to scream, and what I screamed was my two word takeaway from the whole tour so far. The only way I can describe the first leg back for Phish 2021 is… "THE VIBES!". That's what I exclaimed on the grassy knoll known as the Deer Creek lawn and that is what this tour is all about for me. 
The 4.0 sound is real. The growling tones of Trey. The new synthesizer sounds of Page. Mike just being Mike but somehow more Mike like, and of course Fish. The sample god and layer of all the funk beats. All of this is true but in my humble opinion, not the point. The performance of the band has been increasingly building and by the time the west coast swing begins, they will be in full championship form no doubt, but more than anything, this tour is a family reunion. The kind you actually want to attend. The full scope and history of this year in our lives and Phish is still incomplete, but my experience with the shows I saw was packed with what I can only describe as "THE VIBES!"  I truly hope that this will continue into the foreseeable future and beyond so that everyone can feel a little of it. 
May "THE VIBES!" be with you always,
Phammer
And now, onto the second leg of summer tour 2021!
---
---
Categories: Music