2020 has been a pretty massive bummer. Yes, it's true. However, saying it over and over again isn't going to make it any worse or any better, nor is continuing to focus on all of the reasons (all 5,479 of them) why 2020 has been so bad. We need to focus on the positives, kid and yes, even in this God-awful flaming pile of dog feces that has been 2020 there are positives.
Here are 20 good things that happened this year.
1. We Took So Many Walks Around Our Neighborhood
So many walks! In spring, walks were what outside time must feel like for people in prison. We got some fresh air, made cautious eye contact with other people, and strictly adhered to a NO TOUCHING policy put in place by the guards. Some days called for long walks, some days called for short walks but every single day called for some sort of walk.
And the weather? Get out of here with that nonsense. Walk in the rain, splash in the puddles, giddy the eff up.
2. And We Spent So Much Time Outside!
If you had a backyard, which I'm lucky to have, it was a Godsend. But even beyond that, we were outside a lot and it was fantastic. That firepit of ours did work. Then we bought this tree swing and even though I couldn't get it far enough away from the tree itself so there wasn't the danger of the swing banging into it, it was still a hoot.
And yes, someday I'll make it safer. I don't know how, but I will.
3. Tik Tok Became The Go-To Spot To Find New Comedians
First, there was Sarah Cooper with her lip-synch Trump videos that like Run The Jewels' albums, only got better as they went along. Then there was Brent Terhune who started releasing videos where he posed as a diehard Trump supporter that were so believable, you could be forgiven for thinking they were the real deal.
Around the same time of Terhune's emergence, came Blaire Erskine.
Erskine is a comedian from Georgia and throughout quarantine, she routinely dropped timely videos where she played conservative politician's wives, daughters, and spokespeople, as well as "attendees" at various Trump rallies. Her attention to detail was amazing.
4. Sports Actually Came Back
For a while there, it didn't look good, and in lieu of not having live sports, we were going to have to get by rewatching old games, something that was cool for a little while but got old pretty fast. Well, except for the Pats/Falcons Super Bowl. I watched that damn game every time it was on and did so happily.
But then leagues started figuring out how they could either restart or start their seasons. The NBA and NHL had great success with bubbles as the NBA set up shop in Orlando and the NHL took their show up to Canada and played games in two different locations. No fans? No problem. For the most part, you didn't even notice and the NHL especially did a great job piping in sound to make it feel like there was a crowd there. The NBA had virtual fans and that was cute, but also forgettable.
Major League Baseball started up in the middle of the summer after finally agreeing on a shortened season and rolled out a geographically based schedule because I guess in their mind, keeping teams somewhat close to home was safer. Sure, tell that to the Cardinals who because of COVID outbreaks I think played six games total, give or take. There were a handful of times when the baseball season seemed on the brink of being canceled, but somehow they pulled it off and then employed the NHL's bubble model for the playoffs.
The NFL? Well, the NFL is gonna NFL because that's what the NFL does. COVID? What COVID? Oh, that COVID. Eh, just move the game back a day or two and it'll be fine.
The NFL's stubborn refusal to really acknowledge COVID has kind of been hilarious.
5. We Reconnected With Friends
Isolation is a funny thing because it prompts you to do things like text people you haven't talked to in years.
And eat. Isolation also prompts you to eat.
6. We Got Down With Some Leisure Wear
The last time I went into the office was on St. Patrick's Day. That was also the last time I dressed like a properly functioning adult for work. For the first few weeks of quarantine, I went through the motions and lived by self-imposed, made-up rules like I was going to wear jeans each day. Why? I don't know, man. I just decided it would help.
Yet the weather eventually changed and with spring, I started wearing shorts every day, specifically this one pair of old board shorts. I've worn those board shorts every day since and settle down, they've been washed. I'm not a complete savage.
I will say that it was kind of nice because prior to 2020, I always kind of wished I could live a life where I was able to just wear a t-shirt and board shorts every day. Then poof, it happened and for the most part, it was a glorious as I imagined.
Dreams do come true, folks.
7. Whether Or Not You Were A Beard Guy Was Determined
Beards are a thing right now. They actually have been for a few years. Long gone are the days were only homeless people, hippies, and beatniks had beards. Now people like lawyers have them. And doctors. Respectable people have beards. Even that goon Ted Cruz has one, although I'm not sure that's a pro-beard example. There is very little about Ted Cruz that is good and/or makes things good.
Hey, Ted Cruz sucks!
Anyway, for dudes that had yet to dabble in beards, quarantine ended up being the perfect time/reason to give one a test drive and see if they are a beard guy or they're not. Under normal circumstances, you'd need to go on vacation to give a beard a shot, and even then, it's really only a vacation beard because it only had a week or so to grow. That doesn't really count. Quarantine really gave beards a time to spread their wings, for better or worse.
I gave a quarantine beard a shot and sure, it was fun and I liked to stroke it while thinking and concocting plans but ultimately I decided that no, I'm not a beard guy. I'm more of a few days stubble kind of guy and that's okay. And more importantly, now I know where I stand on beards and never, ever have to worry about it again.
Unless I need to go on the run. But that's a different story all together.
8. Seth Meyers Was (And Still Is) A Lot Of Fun On His In-Quarantine Shows
When the country shut down in March, late-night hosts quickly had to switch things up and move production to their respected homes. Results were mixed although, for the most part, they all nailed it. Jimmy Fallon was adorable with his family, Stephen Colbert gave off a hanging out with a cool professor in his office vibe, and Conan O'Brien kept letting his hair grow until it no longer went up, but out. This was notable.
But I think the winner was and continues to be Seth Meyers.
For most of the quarantine, Meyers did shows from his home, broadcasting them from his attic where he incorporated reoccurring gags involved copies of The Thorn Birds, wasps, and more. For a few weeks during the summer, he operated out of a room at his in-laws' house where he was routinely joined by a painting of a sea captain that became something of a sidekick to him. Other strange knick-knacks and random stuff you'd likely find in an old couple's house started to make appearances and the whole thing was tons of fun.
Over the past month or so, Meyers has returned to his studio at 30 Rock but has been doing shows without an audience. It's just him and the crew and the lack of an audience has actually made things more enjoyable. Meyers' A Closer Look segments had already become required viewing, but since returning to the studio, it seems like the segments devolve into a brief bit of lunacy and absurdity at certain points, hijinks that could only happen without an audience.
It's just silly and it really is a lot of fun.
I miss the sea captain, though.
9. Streaming Services Released Some Really Good & Really Fun Movies
At some point during the quarantine, the new movie pipeline dried up. This made sense seeing as how theaters had closed and therefore, new movies didn't have a place to start, let alone end up (i.e. OnDemand and available to stream at home.) Things were starting to look bleak on the new movie front.
And then the streaming services stepped in to save the day, which was really the least they could do because dude, they make so much money.
Netflix released Extraction starring Chris Hemsworth and that movie was a lot of fun.
Netflix also released The Old Guard starring Charlize Theron, and The Trial of the Chicago 7. Meanwhile, Hulu released the Andy Samberg time-loop comedy Palm Springs and Apple released the Tom Hanks World War II naval film Greyhound. There were others of course, but those feel like the main ones, and in the absence of studios being able to pump out new movies, these offerings from streaming services were a sight for sore eyes.
10. Trolls World Tour Was A Lifesaver For Parents With Young Kids
There was a novelty to that first week or so of quarantine but it quickly passed and for parents with young children, we had to figure out a way to fill the days in which kids couldn't socialize with other kids or go to playgrounds, etc. It was some tough business and by early April, we needed something to parachute in and offer up some help.
Trolls World Tour to the rescue!
The movie might not be good and has some weird ideas about what rock 'n roll is, but I could care less. Dreamworks wisely decided to skip theaters and release it to OnDemand in mid-April. Thank you, Dreamworks. Thank you so much. Our five-year-old was nearing something of a breaking point and no amount of pillow forts would be able to save us. But that second Trolls movie sure did.
But no really, the rock trolls don't make any sense. Are the punk or metal or classic rock stoners? Seems like we're generalizing here, Trolls.
11. The Fourth Season Of 'The Crown' Was The Show's Best
Through three seasons, The Crown had been solid. Sometimes it has been better than solid, sometimes worst but on average, solid. Part of the appeal of the show was how it taught us ignorant Americans about British history and while sometimes the connections the show attempted to make between things that happened in the Queen's life and events in England's history seemed like a stretch, for the most part, it worked. I mean, sometimes it didn't but again, it's fine.
The show's fourth season was the meat and potatoes though because it introduced us to a young Diana.
Season four also then brought us inside the rocky first few years of Diana's marriage to Charles, which could best be described as "not ideal." However, Emma Corrin was amazing as Diana.
Man though, season four was a rough look for Charles.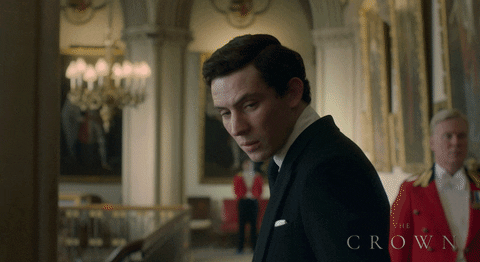 Up to this point, most of the story was buried so far in the past for the majority of the audience that it was kind of thrilling for them to all of the sudden start portraying Royal events that we remember happening.
Oh and Gillian Anderson was several levels above solid as Margaret Thatcher.
12. Zoom Was And I Guess Still Is Pretty Cool
I mean, no one really likes being on Zoom but beyond that, it's not bad. Early on, Zoom was fun and Zoomin' with family and friends, doing happy hours and whatnot was wonderful. But you know, all things must pass.
Zoom now, all these months into quarantine and working from home, is significantly less wonderful but even still, it gets the job done.
I'm anti-Zoom backgrounds though and I will not be convinced otherwise.
13. Quarantine = The Perfect Time To Get Caught Up On Your TV Consumption
Normal life is busy. Normal life has limitations for how much television you can watch on a regular basis and as a result, normal life tends to mean that you're going to miss a show you would have liked to have watched but just didn't have time for it.
Quarantine Life is most definitely not normal life (although it's frighteningly starting to feel like it) and so all of sudden, there was more than enough time to get caught up on all things television, whether it was rewatching shows you've been aching to rewatch, getting back on track with shows you had fallen behind with or finally getting around to watch a show you had been meaning to, but just hadn't gotten to it. Me personally, I dove back into The Wire, and the wife and I started rewatching New Girl because man, it just felt good to laugh again.
We also finally checked out Ozark and no, I am not going to get into money laundering anytime soon, thank you very much.
I had been reluctant to watch the show because it reminded me so much of Breaking Bad. And while yes, it does have a Breaking Bad vibe to it, it's pretty good in its own right. It's also incredibly fast-paced. I feel like everything that happens in one episode of Ozark would be all that goes down in one season of The Sopranos.
Next up is Succession. Giddy up.
14. Lawn Care & General Landscaping At Home Was A Welcome Distraction/Activity
Because yeah, we all spent a lot of time outside once the weather started to turn in the spring and it served as the perfect opportunity to plant plants and flowers that you had been talking about planting for a while now.
I'd like to say my lawn benefited from this extra time, but alas, it was not the case.
Maybe next year, you patchy bastard.
15. Tiger King Was A Fun Way To Be Both Entertained & Disgusted
Netflix dropped Tiger King, a limited documentary series about Joe Exotic right as quarantine was starting to wear on people. We were desperate to talk about something besides the pandemic, the government's piss poor response to it, and being stuck inside because of it. The story of this Joe Exotic fella, his zoo, the folks who worked there, the exotic animal game, and more was just what we needed.
Of course, it wasn't all fun and games. There were quite a few moments in the series that were at the minimum cringe-worthy and at times, just hard to watch, especially if you care about animals. There was a lot of talk about caring for these animals but not a heck of a lot of demonstrating that supposed care. Also, one guy shot and killed himself just off-camera. If you're keeping track, he was the second dude who was "married" to Joe Exotic. I believe there were four total.
Then there was Carol Baskin, Joe Exotic's nemesis, who owns and operates her own exotic animal sanctuary and may or may not have murdered her first husband and fed him to a tiger.
It's true. She definitely did.
And then she went on Dancing With The Stars because even amidst a global pandemic, some things are just going to keep making absolutely no sense.
16. A Lot Of Musicians Were Inspired By Quarantine To Drop Albums
Phish did it. My Morning Jacket did it. Taylor Swift did it twice. Quite a few acts did it actually.
Thankfully quarantine didn't stop artists from releasing new albums and given the circumstances, every time a quarantine album was released, it was cause for celebration.
Phish released Sigma Oasis on a Friday, just two days after announcing its release, and My Morning Jacket elected to cobble together unreleased tracks that were recorded while working on their 2015 album The Waterfall and release The Waterfall II. Ms. Taylor Swift spent part of her quarantine in the woods with a few folks and ended up recording not one, but two albums, folklore and evermore. You may have heard about them.
I was a little concerned when shutdowns started happening that it would turn off the spigot of new material from musicians but it's nice to see those concerns weren't necessary.
My concerns about picking out avocados at the grocery store remain though.
17. Joe Biden Was Elected President
Like four or five times.
I've lost count.
18. Instagram Became A Source Of Comfort In A Comfortless World
Before quarantine and this whole pandemic thing, I was partial to Twitter. Twitter topped my personal rankings of social media platforms and Instagram was probably second with Facebook third. I had felt that Twitter was a good source of information and news and if you followed the right people, a good place to get a good chuckle every once in a while.
But then quarantine changed all that. Twitter became super depressing. And frustrating. And sad. And maddening. Bottom line, lots of cons with Twitter and few pros. That's not a good ratio.
Instagram though was nothing but a good time and as a result, it shot past Twitter and has yet to look back. You can't travel anywhere, but you can follow Instagram profiles that can make you feel like you're traveling and you can get more laughs on Instagram. There's some news on Instagram, but you can filter that out and not feel like you're missing anything. It's a win/win
Facebook might have fallen to four or five in my rankings. There is nothing in the third spot.
19. Musicians Found Different Ways To Make Up For The Lack Of Live Music
With governments throwing the hammer down on large (or even medium or small) gatherings, it meant live music was canceled for the foreseeable future. Now I don't go out to a lot of concerts anymore but still was bummed about the unfortunate development.
An evolution of sorts then got underway.
First musicians did live streams from the home and it was fine.
Then musicians dabbled in more adventurous live streams. This jam band Goose performed virtual concerts from a barn in Connecticut for a couple weeks in late spring. It was cool.
Then musicians dipped their toe in the murky waters of socially-distant concerts, usually at drive-in movie theaters where concert-goers stayed in or very close to their cars. It was pretty inventive. The drive-in shows got fairly popular and popped up around the country. But with the weather turning, they weren't going to be an option forever. At some point, artists would need to move inside and find out ways to make virtual concerts work.
In October, Trey Anastasio of Phish announced The Beacon Jams, an eight-night run at New York City's Beacon Theater.
For eight Friday nights in a row, Anastasio and his band would live stream shows via Twitch. The shows were watched by thousands of people, a community was activated and it was the closest anyone had come to making virtual shows feel like the real thing.
Going forward, who knows what will happen but the hope is that someone influential caught The Beacon Jams and took notes.
20. Bubbles Weren't Just For Sports As 'The Bachelorette' Used One To Pull Off A Season
The 2020 season of The Bachelorette was supposed to happen in or around September and would feature a Bachelor Nation veteran, Clare Crawley. But you know, the pandemic, and because of that, production was halted.
Seemingly inspired by what the NBA and the NHL did, producers of The Bachelorette put together their own bubble, isolating Clare and the dudes vying for her heart at a resort near Palm Springs (one presumably not impacted by time loops.) We were all systems go and the new season premiered in October. Giddy up!
Giddy down because Clare found love way sooner than expected and after only a few short weeks, bailed on the show to run off with this dude Dale. Once again, it looked like the show would be torpedoed. But also once again, the producers were quick thinkers and brought in a replacement, another Bachelor Nation veteran, Tayshia Adams, and the show barely missed a step. In fact, it got better as Adams is a much better Bachelorette than Crawley. Also, the production team for this season is killing it, getting super creative to come up with date ideas as they're still camped out at the Palm Springs' resort.
We could deal without many things in 2020. But I'm not sure a season of The Bachelorette could be one of those things.
Oh, and we have a COVID vaccine. So see, it's not all bad.
---
---
Categories: 2020