Spencer Albee has become somewhat of an institution in the sunny seaside town of Portland, Maine. He's been playing music on nearly every stage ever constructed in the greater Portland area since the mid-nineties, either with Rustic Overtones, Rocktopus, As Fast As or his various solo ventures. Albee's Thanksgivings are spent paying tribute to the Beatles at annual sold-out shows at Portland's legendary State Theatre, shows that have drawn the attention of national publications like Rolling Stone and he is frequently concocting schemes that highlight Portland's deserved and rich music scene like the Clash of the Titans series, in which local musicians do battle using cover songs as their weapons. Albee and his band recently hopped on a bus and played songs in 10 Maine towns in one day. In short, dude is a busy man.
On Tuesday Albee released his latest album, Relentlessly Yours. From a cumulative stand point, it's his twentieth release and his first solo effort since 2015's Mistakes Were Made. As has come to be the case with Albee's work, it's melodic, full of lush and layered harmonies that get stuck in your head for days and endless amounts of pop sensibilities and flirtations. Albee is reliable in the best possible way. He has created a lane for himself and stays in it, making it his own and making it a place where he can experiment and tinker, but not to the point of straying too far from his base. I expect to be reminded of someone like Paul McCartney when listening to Albee and I'm 100% okay with that.
There is a little bit more of an edge to this record; more machine-like than Mistakes Were Made. It sounds slightly more industrious, seemingly a transition of sorts from an agrarian society to a more industrial one. This isn't new territory for Albee. As Fast As definitely dipped their toe in more sonic-sounding waters with their album Destroy the Plastique Man and truth be told, that album is probably the closest member of Albee's catalog you could compare Relentlessly Yours too. Both sound like carefully crafted experiments; both have a reactionary feel to them. Reactions to what? Beats me. Ask Albee. We just kind of look alike. I'm not at liberty to speak for his creative process.
When Mistakes Were Made was released and I sat down to write about it, I felt that the best way to sum up my feelings was via various .gifs from Wes Anderson movies, as Albee's music has always seemed inspired by the unique filmmakers' work. This time around, I wanted to do something similar. Albee's music has a feeling to it and I think the best way to get those feelings across is via well-placed and meticulously selected .gifs. But I wasn't going to use Wes Anderson .gifs again. So what would it be this time?
Well, Twin Peaks is coming back. So why not use some Twin Peaks .gifs?
Yeah, let's do it.
"Just Like Clockwork"
"Nothing Left to Lose"
"Feeling Lucky"
"Instrumental Breakdown"
"You'll Be the Death of Me"
"All is Quiet on the Western Prom"
"You Swept Me Off My Feet"
"Miss U2"
"Too Much"
"Open Heart"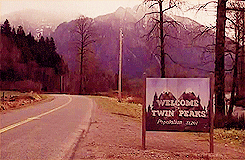 "Ten to One"
Top Photo: Lauryn Sophia
---
---
Categories: Music