The summer of 2021, the one that was supposed to usher in a return to normalcy and a general sense of carefreeness is about to close up shop. And for the most part, everything was going pretty well for a while there. People were getting vaccinated, businesses of all shapes and sizes were starting to open up again, we saw the entirety of peoples' faces for the first time in over a year, and even if you didn't exactly know what herd immunity was, you knew that there was a chance we could get there.
Narrator: we did not.
Then shit started to get weird. Much like student loan bills, COVID insisted on reminding us that it was still around and only got more aggressive in doing so as the summer days went on. We were back! But not totally back but also not back to quarantine times but maybe a little back to quarantine times and I guess we're wearing masks again but not as much as we were and not everyone is and that's super confusing and shouldn't we all be wearing masks again and I'm sorry, I'm just asking because things seem borderline terrible again and oh cool, the summer hits the stretch run with a massive heatwave followed by a devastating hurricane.
Whew.
So yeah, it was kind of an up and down summer overall, and in the end, I think the summer of 2021 could be best be summed up by saying that despite some good things happening, nothing felt 100% awesome. Damn near everything had a caveat to it, a "yeah, but" attached. There was a darkness on the edge of town, friends and we all knew it. We tried our best to pretend it wasn't there but as July turned into August, it became harder to ignore. New variants, new storms, new assaults on Constitutional rights. The good times were like the wine glasses I bought my wife- not meant to last.
There needs to be a winner though! Someone or something has to have come out ahead this summer and I'm determined to figure it out. Because yeah, the summer wasn't a total bust, and it's because of these lucky nominees, that was the case.
Let's see the nominees…
Italy
Yes, the country of Italy. Struggles with COVID aside, Italy had themselves a nice little run there.
For starters, there was the Stanley Tucci show, Searching For Italy. It might have premiered in late February, but I don't think anyone was on it from the jump and the majority of folks came to it late, making it eligible by just sneaking in at the deadline. If you watched Searching For Italy there's a good chance that you A) really want to go to Italy B) really want some Italian food and C) think Stanley Tucci would make for a good hang. He seems delightful.
In June, Pixar's latest film Luca dropped on Disney Plus and any kind of research aside, I think it was the first animated film of that magnitude to be set in Italy. It certainly wasn't the best Pixar movie ever, but it was still super enjoyable (and also made you want to visit Italy.) And then in July, Italy rode a hot streak all the way to a Euro 2020 championship. With their victory over England, Italy took home their first Euro title since 1968.
Now, have I mentioned I really want to go to Italy?
I Think You Should Leave Memes
I've honestly seen more memes from Tim Robinson's Netflix show than actual episodes but that has not diminished my enjoyment of them at all. Nor has it cut down on my own use of them. They just work so well with so many things. Season one had the hot dog man, of course, and that got the ball rolling.
But season two, which premiered in early July was just as beneficial to the meme market.
There's even an entire Twitter thread, I Think You Should Leave Pass, that's essentially a mash-up of I Think You Should Leave meme and NBA content. It's fantastic and spot on.
Amidst a summer of slowly developing bad news, it was nice to have a fresh source of inspiration and content in the meme game to help get us through and make sense of everything.
Live Music
Remember when I said that this summer of "yeah, but," a summer when nothing felt 100% great. Well, let's briefly talk about concerts. Because finally, after being shut down for over a year due to the pandemic, live music returned this summer. It was gradual at first, a show here and there, one with some restrictions put in place and the enforcement of social distancing. But very quickly the dam broke and acts were announcing tours, and festivals that had been shelved were dropping lineups.
It was very exciting.
But also a little confusing, especially as the Delta variant started to spread and COVID numbers again began to tick up. Do you wear a mask and if you do, do you wear it the whole time or just when you're entering the venue or in places with large crowds? But aren't most concerts filled with crowds of some kind of size? How many people is too many people or enough people to make you wear a mask? And should you get a COVID test a few days after the show? Damn it, should you even go?
So yeah, a little confusing. Fun and it was great to have live music back but man, it would have been sweet if it could have come back without all of these concerns.
Ted Lasso Season Two
The return of Ted Lasso was just what we needed as we slogged our way through a summer of uncertainty. It's fun, full of laughs, might make you tear up or prompt some goosebumps to cover your skin, and ultimately, it's a show filled with joy.
Or more specifically…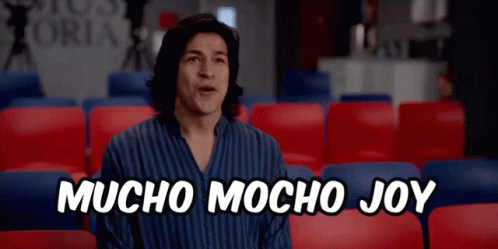 Yeah, but then that dude killed a dog with a ball, and perhaps this show might have a different feel to it than the triumph that was season one. And that's cool. Second seasons are traditionally a little bit different than the first season as a show grows into itself and stretches its legs. You can't be a one-trick pony, kid. Gotta have at least two ready to go.
Of course, as the season went on, it did seem like some of the shine was wearing off and some hand-wringing was going on in critical circles that the show had lost a bit off of its fastball.
But is the season over yet, though? No! Shouldn't we wait until it is to make any kind of declarations about the quality? Shouldn't we take a lesson from Ted himself and just…
Yeah, we should. Settle down, ya animals.
Olivia Rodrigo
I didn't get on board with Rodrigo's song "Driver's License' until I saw her perform it on Saturday Night Live. It was impressive and I was now interested, albeit in the most passive, pedestrian way possible. I wouldn't make it a point of listening to her music but I also wouldn't not make it a point.
Fast forward to this summer and when driving our six-year-old around, it became kind of fun to listen to the radio and ask her if she liked a song when it came on. My research came back with conclusions such as she likes girl songs and a few boy songs, especially songs by Shawn Mendes. She loves Dua Lipa and no, she doesn't care much for Phish.
Unsurprisingly, she really likes Olivia Rodrigo and as a result, we found ourselves listening to Rodrigo's songs a lot. And I didn't really mind it, especially "good 4 u." The song is a fun little pop/rock firecracker and while there's been some talk about it bearing a few too many similarities with something by Paramore, I could care less. It sounds good in the car. That in itself should be a Grammy category.
The Summer Olympics
Who doesn't love the Olympics, am I right? The sports. The pageantry. The weird sports you've never heard of. The host cities basking in the splendor of the games (and in some cases, displacing millions of people in the process but like, whatever.) It's a wonderful time.
This summer, despite a lead-up that didn't look promising in light of COVID, the summer Olympics in Tokyo actually happened and you know, they were fine. They were the Olympics. The Simone Biles situation got pretty ugly but we should be used to such things by now and it was a bummer the US Women's National Team didn't go farther in soccer but then it made sense when we all remembered that they didn't medal the last time around and the World Cup is where they do their damage.
For part of the Olympics, we were on vacation with the inlaws and my father-in-law was all about the Olympic channel. The primetime coverage was fine but he was all in on the whole damn thing and as a result, I witnessed stand-up canoeing and I'm sorry, but what the fuck. There's always one or two sports in the Olympics where it seems like they're just messing with you and the award for the Are You Serious Here? at the Tokyo games definitely does to stand-up canoeing.
This is how you canoe: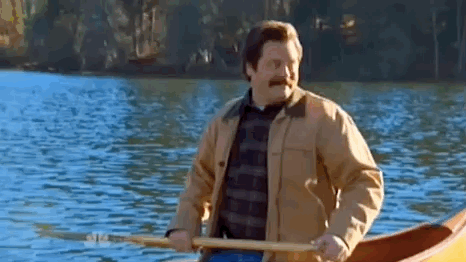 You're not even supposed to stand up in a canoe!
The Olympics are ridiculous.
Almost as ridiculous as the Simone Biles fallout. Good God, people. There are lunatics standing up in canoes. Focus on that madness instead of a young woman dealing with some incredibly serious personal issues.
Bennifer 2.0
In March of 2020, I put together what I felt was the definitive ranking of all things Ben Affleck. Why? Because the Internet, yo. Get over yourself.
Anyway, I had Bennifer, Ben's relationship with Jennifer Lopez ranked 14th, in between Ben's commentary of Armaggedon and The Accountant. This made sense at the time. However, little did I know a sequel would happen. If I had known, then wow, hard to say where that would fall. It's a miracle and a hell of a narrative call back.
I want Ben and JLo to stay together forever and never break up.
People Who Kept Their Masks
Once we all started getting vaccinated and things began opening up, a lot of us started ditching masks. Well, except for kids. Damn it, where are we on the vaccine for kids SCIENCE??? Let's get on that, nerds.
Man, we thought we were good with masks. It was nice being able to go somewhere like the grocery store and smile at someone in a polite "excuse me, I just need to get my cart by you" kind of way without a mask on so they could see that smile instead of just your eyes, causing them to wonder why you were looking at them that way. Eye contact without the proper showcase of facial features has been found to be kind of unsettling.
Of course, as has been previously stated, shit got weird again and kind of scary, and just like that, we were wearing masks again, provided you still had them.
The White Lotus
Hawaii!
Murder!
Really mean girls being straight-up vicious!
A commentary on colonization!
A commentary on unburdening yourself from devices!
A commentary on ass play!
HBO's new show had it all and for a few weeks, was a lot of fun to watch. I was kind of disappointed to hear it was coming back for a second season but I think positioning it as an anthology show is interesting and I'm in.
Major League Baseball
The 2021 baseball season has been low-key good fun. I stress low-key because I just don't think baseball captures the public's attention like it used to. Football still reigns supreme, but basketball has been locked into the second slot and anything after that is up for grabs. The future of baseball and the future of rock music are similar in that for both, things don't look great and both seem to be headed towards the fringes of pop culture.
But all of that aside, this season has been good, whether it's Shohei Ohtani of the Angels being a stud at damn near every facet of the game, the NL West arms race, the Red Sox coming from nowhere to lead the AL East and then crumbling back to earth after the All-Star Break, the Yankees going for broke and more. The postseason looks to be solid too and Major League Baseball has to be beyond excited that they have entertaining, exciting young players on teams that are actually good. It turns out that if people see hyped-up players play, it really helps.
Wild, huh?
Kanye's 'Donda' Sessions & Album Rollout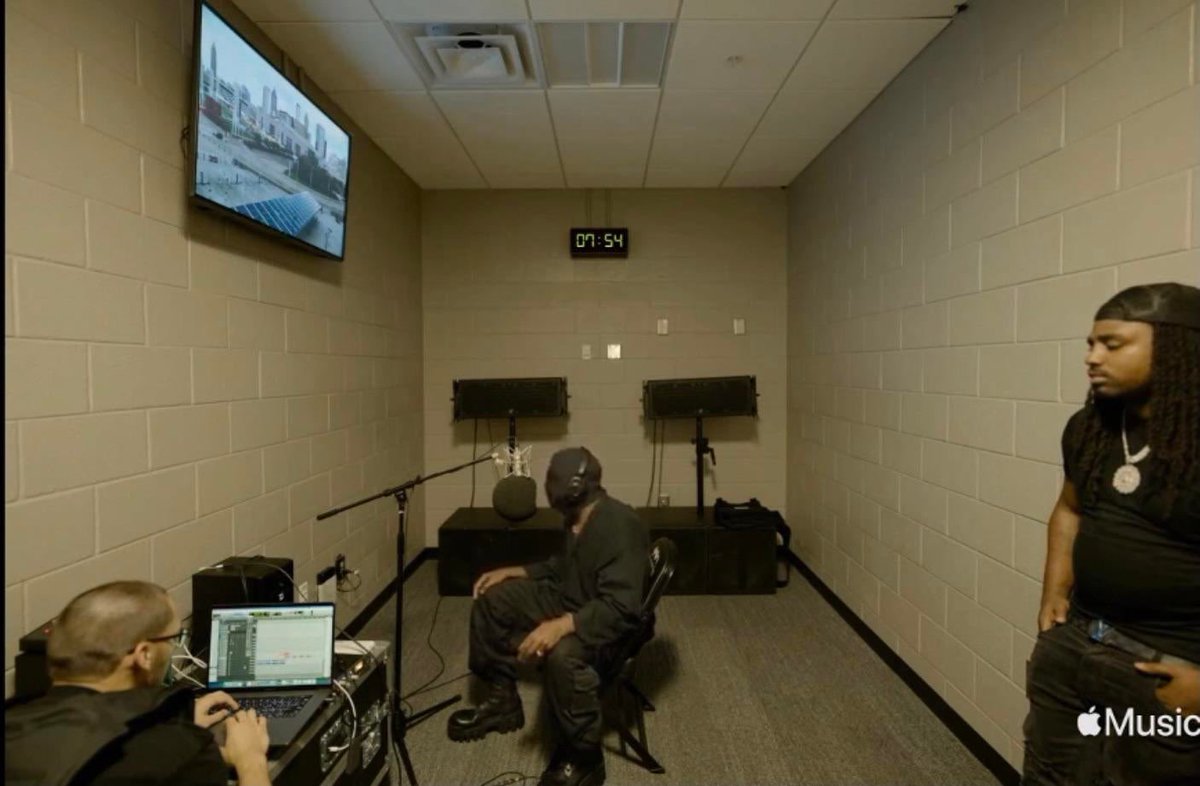 Kanye's recording sessions for his latest album Donda, which involved him camping out in stadiums and wearing a mask gave off some serious Phantom of the Opera vibes and no, that is not a good thing.
Kind of like the album itself.
Okay, So Who Wins?
That's simple. It's people who kept their masks. You probably shouldn't have gotten rid of them in the first place and settle down, no one cares if you are wearing a Christmas -themed mask these days. Just wear one and be done with it.
---
---
Categories: 2021