You can call me old-fashion, but I'm a sucker for a musician who looks like they're having fun while performing. Playing music is one of the most amazing things to do in life; easily one the most fun thing a person can do. Come on now folks, act accordingly. If a performer is looking they're truly enjoying themselves, I'm in.
For Anderson .Paak, this is definitely part of the appeal for me. He always looks like he's having fun, whether it's when he's banging on drums or dancing around singing and rapping. A giant smile is right up there with a deep groove and an infectious melody as constants when it comes to .Paak, one of the more intriguing young artists in music today. And yeah, he's still kind of a young artist, having been around for less than a decade. But my dude has been on a tear during that time, having released four solo albums and another album, Yes Lawd!, which was a collaboration with Knxwledge. His newest project is a super friends team-up with Bruno Mars, the 70's soul-inspired project Silk Sonic.
In addition to his own albums, .Paak has been all over the place when it comes to guest spots, having appeared on tracks with Mac Miller, Dr. Dre, and A Tribe Called Quest. He's also worked with Mark Ronson and Justin Timberlake and was one of the many amazing artists to contribute to the Black Panther soundtrack. On Sunday night's Grammys, he took home the Grammy for Best Melodic Rap performance (I don't really know what that means) for his song "Lockdown." It was his second Grammy, having one for (regular?) Rap Performance n 2019.
Here is a ranking of my favorite .Paak solo joints, collaborations, and guest spots. You can follow along with the playlist if that's something you're into. No pressure, though.
20. "Bubblin"
Released all by its lonesome in 2018, there is a slightly restrained frantic energy to "Bubblin." It feels like the music is going faster than the beat is. There also feels like there's a lot going on within the track, whether it's .Paak's vocals, the samples, or the music. The song nabbed .Paak his first Grammy in 2019.
19. "Leave The Door Open"
.Paak and Bruno Mars got to know each other back in 2017 when they toured together, so it's not as if this Silk Sonic collaboration comes out of left field. The song gives off a certain vibe, hard to put my finger on it.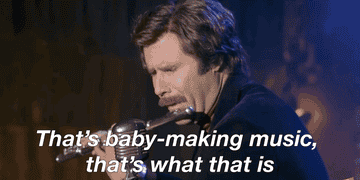 Yup. That's what is. Thanks, Ron.
18. "Suede"
Part of what has made .Paak's career so interesting up to this point is his ability to dive headfirst into collaborations, whether it's a musical field trip back to the 1970s with Mars or Yes Lawd!, his groove-heavy project with producer Knxlwedge under the moniker NxWorries. The project calls to mind the work J-Dilla did with Madlib back in the day. Nothing especially flashy, just solid grooves and smooth vocals, which in the right hands, is all you need.
17. "Cheers" 
Listen, if you can get Q-Tip on a track, you get Q-Tip on a track. It's pretty simple. I've been trying to get Q-Tip on this blog for years for exactly that reason. For the record, he has not returned any of my methods of correspondence. Thankfully I'm used to it. Ryne Sandberg still hasn't responded to any of the letters I wrote to him when I was 8.
16. "DAPPER"
Anderson .Paak is an equal-opportunity collaborator. For every Bruno Mars or Q-Tip joint he does, he does something like "DAPPER." .Paak hopped on this track from Domo Genesis's debut album Genesis back in 2016, contributing vocals to this low-key groove bumper. Much like how .Paak and Domo's vocals bounce off of one another effortlessly, so does the Fender Rhodes and the drums, making the track a sweet, little head-bobber.
15. "Make It Better"
Okay, with all due respect to Domo Genesis, we're back to big-name collaborators. "Make It Better," off of .Paak's 2019 album Ventura goes way back and brings in Motown legend Smokey Robinson to contribute some vocals. Robinson makes so much sense too, as the song is dripping in nostalgia, a loving nod to the sounds Robinson helped pioneer back during his Motown days.
14. "Then There Were Two"
Mark Ronson and .Paak seemed destined to work together, both of them purveyors of a wonderfully vintage slice of throwback goodness. The opportunity came when Ronson put together the soundtrack to Spies in Disguise, a movie that I can only assume I'll watch with my kids one of these days. .Paak handles lead vocals and drums on the track, while Ronson does what he normally does with old-school horns and delicious grooves. I'm sure this Silk Sonic thing will be cool, but I'd much rather have .Paak do an entire album with Ronson.
13. "Giannis"
It must be nice to be able to show up on one of the best albums of 2019 which is what .Paak did, dropping in on "Giannis" off of Freddie Gibbs and Madlib's excellent album Bandana. Gibbs is obviously the star of the show here, the Giannis if you will. But .Paak is doing his best to play Robin to Gibbs' Batman. Initially .Paak drifts in and out with some mellow vocals behind Gibbs' before running with his own verse around the song's halfway point.
12. "TINTS"
"TINTS," off of Oxnard is like the Mark Ronson collaboration in that a team-up between .Paak and Kendrick Lamar on a Dr. Dre-produced track felt inevitable. It had been something fans had been hoping for and then subsequently got excited for when images began circulating of the two rappers in the studio together. The result is a track that bounces musically and hits lyrically and God damn it's always nice to hear from Kendrick Lamar.
11. "Lockdown"
While there always been an overwhelming sense of joy and enjoyment to .Paak's music, there has always been a socially-conscious element to it and he has never been one to shy away from tackling pressing issues head-on. On "Lockdown," .Paak steers his way directly into the events of the summer of 2020, hitting on the COVID pandemic and the different protests involving police killings that occurred.
"Sicker than the COVID, how they did him on the ground/Speakin' of the COVID, is it still goin' around?/Oh, won't you tell me 'bout the lootin' what's that really all about?/'Cause they throw away black lives like paper towels/Plus unemployment rate, what, forty million now?/Killed a man in broad day, might never see a trial/We just wanna break chains like slaves in the South/Started in the North End but we in the downtown/Ride, cops try to block, now we gotta show down."
Don't be fooled by the big smile and joy in .Paak's music. He's here to make a statement too.
Intermission
Please enjoy .Paak's NPR Tiny Desk Concert from 2016:
And now, back to the rankings.
10. "Get Bigger/Do U Luv"
Another offering from Yes Lawd! is a twofer. Here at Giddy Up America, twofers are always welcome. As with "Suede," "Get Bigger/Do U Luv" features a laid-back groove, sparse instrumentation and .Paak's cool cat conversationalist flow. The sound is something of a throwback, calling to mind production you might have heard on an early Tribe album or another product from the neo-soul movement of the late '90s cultivated by acts like The Roots, Common, and others. This is some easy summer night music right here.
9. "Gidget"
Part of what has made .Paak's live performances so special has been the presence of his backing band, The Free Nationals. They help bring his neo-soul, laid-back funk stylings to life. In 2019, the group released an album of their own, and not to anyone's surprise, one of the album's standout tracks features .Paak on vocals. The song is just delicious. It melts in your mouth; a soul-infused R&B throwback that you could put on a loop and not get sick of.
8. "Celebrate"
"So let's celebrate, while we still can."
If we're talking about twofers, then I'd be remiss not to point out the fantastic twofer that is "Celebrate," a combination of a lovingly familiar Sunday morning groove and a message stressing the importance of living in the moment. .Paak has done songs with more to them, either musically or lyrically, but the simplistic feel of this song has an enduring vibe to it and comes with a feeling that this song might very well live on longer than most of us will.
7. "King James"
On "King James," .Paak most directly pays tribute to LeBron James but he also gives a nod to Colin Kaepernick and former President Trumps' beloved border wall. With the James tribute, .Paak expresses his admiration for LeBron's work in the community and all that he stands for. Yet despite the seriousness of the subject matter, the music is still easy-breezy, soulful, and funky, which is part of .Paak's ongoing magic trick where he lulls you in with easily-accessible grooves and then proceeds to get you with high-end, socially-conscious lyrics.
6. "Come Home"
Again, sometimes these things almost make too much sense because here .Paak has always felt like a child of Outkast, and then who else but Andre 3000 shows up on one of the standout tracks from Ventura. Yet before Andre comes in, .Paak does his thing over a downright sexy groove propelled by a heavy bassline and angelic backing vocals. Of course, then 3000 does grab the mic and as is his way, goes all over the damn place. But in the possible way of course.
5. "Dang!"
.Paak and the late Mac Miller only recorded one song together but in the short time they knew each other, they became close friends. Coming off of Mac's 2016 album The Divine Feminine, "Dang!" never loses it's bounce courtesy of a beat that starts thumping from the joint and never really lets up beyond a brief break during the bridge. Beyond the bounce, there are some funkadelic-style keyboards and some well-placed horns but the magic of the song is the interplay between the two friends.
4. "6 Summers"
Oxnard is .Paak's most overtly political album and one of the highlights is "6 Summers," a track that opens with the lines "Trump's got a love child and I hope that b**** is buckwild." As for the title of the song and the lines it comes from, "This s*** gon' bang at least six summers / But ain't s*** gon' change for at least three summers" it's .Paak looking ahead to the summer of 2021 and the hope that someone new will be in office. Well, Anderson .Paak, do I have some great news for you!
3. "Room in Here"
Anderson .Paak will get funky. Anderson .Paak will get political. But Anderson .Paak will also get all sorts of sexy in here. "Room in Here," which features The Game and Sonyae Elise lets the mood breathe. Nothing is cramped here and the music is given ample room to spread out and do its thing, which yes, is sexy as hell. This is a low-lit song, the smell of candles wafting in the air and lingering just out of reach. Would you like something to drink? Of course, you would.
2. "Animals"
In 2015 Dr. Dre ditched the boardroom and corporate life and returned to the studio with a vengeance, releasing Compton, his third album. Yet one of the big stories, when the album came out, was this new kid featured on the album. .Paak appeared on six of the album's tracks but the best one was the politically-charged "Animals," produced by the legendary DJ Premier. It was the first time that Dre and Premier, two hip hop legends, had ever worked together. Yet it was the young .Paak who ended up stealing the show. In 2018, Premier took to Instagram to give some love to Compton and gave a special shot out to .Paak "who murdered every Compton track he touched."
1. "Come Down"
"Come Down" is full of life; it has its own pulse and own set of opinions. It rages and grooves, the funk is solid and filled with a steel trap of determination. "Come Down" is a murderous neo-funk tune that has both an ominous and joyful vibe to it and as an early single of .Paak's, it's a wild glimpse into what he was capable of and had in store for us. "If I get too high now sugar come on, I might never come down," .Paak yells at one point. Five years later, he has yet to get his feet back on the ground and doesn't seem set to anytime soon.
---
---
Categories: Music