That crisp tinge in the air can only mean one thing, it's almost football season. The 2018 NFL season is upon us and on the wild streets of Philadelphia, the remnants of the numerous celebrations following the Eagles' Super Bowl win, still linger. While up in New England, the last throes of summer have teamed up with the swirling clouds of uncertainty surrounding the Patriots to cause just enough concern for it to be very real for fans of the team and laughable for those that aren't. Everywhere else, hope springs eternal or hope has elected to sit the season out, comfortable enough to wait it out and see if it's worth showing up in 2019.
An Eagles/Patriots rematch in Super Bowl LIII is definitely possible, but it'd be foolish to sleep on perennial contenders like the Steelers, Falcons and Packers, as well as up and coming teams like the Texans, Vikings, Rams and 49ers. Then there's always the one or two teams that surprise everyone, like the Jaguars did last year. There's uncertainty heading into the season, but it's bottled uncertainty. The field is full of question marks, but ultimately the field isn't that big. It seems that with every season, there are maybe four teams that have a very real shot of winning the Super Bowl, a couple more that have a good chance, one or two that would be surprising, but not totally surprising, and then the rest that are just, there. I'm looking at your Titans.
Here is Giddy Up America's officially official preview of the 2018 NFL season.
A: Anthem Protests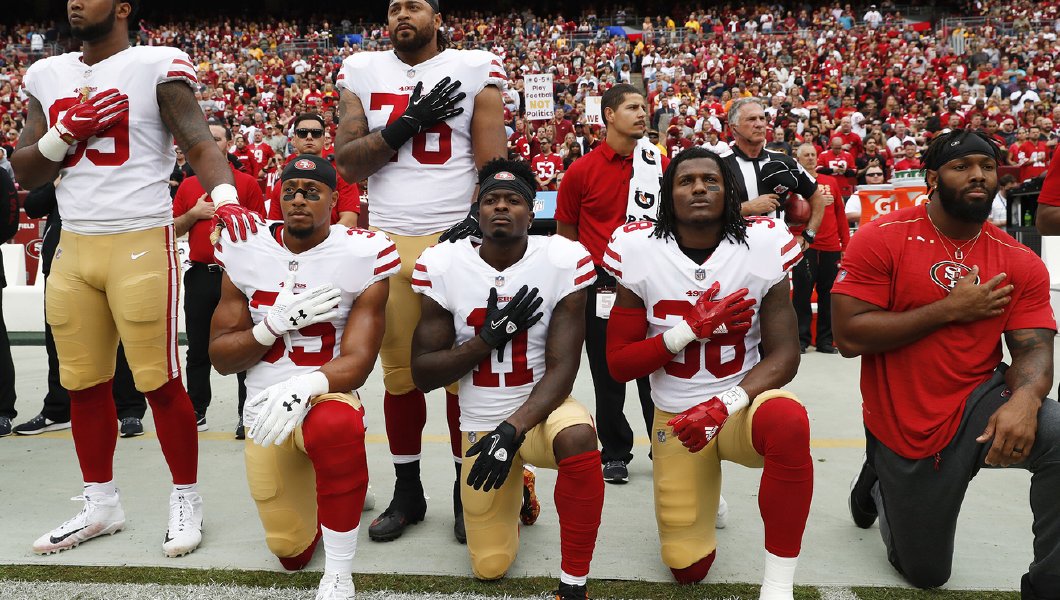 Yes, everyone's favorite story that won't go away, which let's be honest, isn't totally a bad thing. It's a protest. Protests are meant to be disruptive and if we've learned anything over the past couple years it's that apparently nothing is as disruptive as doing something that gets in the way of someone enjoying a game of football. Yet something we haven't learned is that these dudes aren't protesting the anthem. They are protesting during the anthem. There is a difference, a difference that is evidently too tricky to navigate for a large portion of America.
Earlier this summer, the NFL tried to solve the problem of it's athletes protesting by laying down rules for protesting, rules that were heavy-handed, not thought out and flat out bullshit. Sure enough, the new policy for player's protesting was shelved and we are all right back where we were in the first place, with athletes looking to use their platform to raise awareness, owners responding terribly, the commissioner left clueless and the President of the United States calling for a full-on boycott. This untenable situation has already proved problematic during the preseason and shows no signs of going away.
B: Brady
As in Tom Brady, the 41 year old quarterback of the Patriots and reigning MVP of the league. How long can he keep playing? How long can he play at a high level? How much time does he spend on Instagram? How will he do in the first four games of the season without Julian Edelman, who is suspending for PED use? These are all good questions. They are also questions that have pretty much the same answer- he'll be fine. HE'LL BE FINE, Ryan yells to himself in moments of doubt or times of need.
C: Catch
Probably one of the more annoying parts of watching the NFL in recent years has been the fact that no one, and I mean no one, knew what constituted a catch. The result was that anytime a player made a catch, you held your breath until it was certified by a catch and decreed a catch by the local government. There was perhaps nothing worse than when someone on your favorite team made a big catch in a huge situation, only to then have to wait a few minutes for it to be reviewed and confirmed to be a catch. All the while, you had to sit through thousands of replays from thousands of angles. It was torture.
Well earlier this summer the NFL sought to make the definition of catch one that was easily understood and easy to enforce. What a novel idea! Let's hope it works.
D: DeShaun Watson
The Texans' rookie quarterback was electric in the first few games of the 2017 season, sparking new life into a Texans team that was already reeling from the season-ending injury to defensive stud J.J. Watt. With Watson taking snaps, the Texans looked primed to challenge the AFC hierarchy. It wasn't meant to be though, as Watson's season ended when his knee blew out. The Texans quickly fell apart and the AFC ended up playing out pretty much as it had been the past few years, with a few exceptions. But now Watson is back and so far, doesn't have much rust on the tires that need to be kicked off. With the Patriots and Steelers looking vulnerable and the Jaguars top-heavy, the Texans could again make a run in the AFC.
E: Enjoyment
The NFL, they don't make it easy. It's become an increasingly complicated relationship and one that won't be getting any easier any time soon. But we'll still watch. We just might not feel great about it. Unless our team is winning of course.
F: Fantasy Football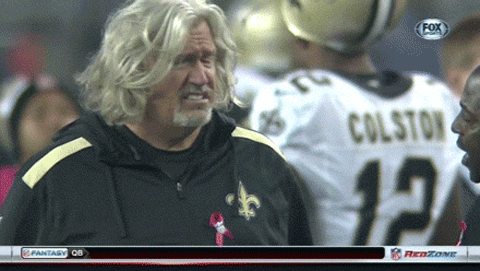 Ugh. Also known as the thing that every year you contemplate not doing again, but then end up doing when draft time comes around.
G: Gang Green
Oh the Jets. Don't look now, but Jets' fans are getting a little chesty thanks to their first round pick, quarterback Sam Darnold. As someone who lives in the greater New York area and as a result, listens to New York sports radio, the prospect of listening to Jets' fans call in to yell and screen about a quarterback controversy is enough to drive a man to drink. Can't wait.
H: Holdout
Did you know that the Raiders are just refusing to pay their defensive stud Khalil Mack? It's crazy. Mack is one of the best players in football and the team won't pay him. And this is the Raiders. It's not like they've been a beacon of success in recent years and thus, can afford to be a little heavy-handed in their negotiations with Mack. Don't get cute, Raiders. Just pay him and move on with your lives.
I: Injuries
Unfortunately injuries have become part of the deal when it comes to the NFL. You basically watch your favorite team play with two wishes: wishing they'd win, wishing that no one gets injured. And if someone does get injured, it's not one of that team's 5 or 6 players that they can't afford to lose. Last year the Packers lost Aaron Rodgers, the Patriots lost Edelman, the Texans lost Watt and Watson and the Eagles lost Carson Wentz. That's just some of the bigger name players who were lost for the year. For two of those teams (the Packers and Texans) those injuries significantly derailed their seasons. As we enter a new season, all we can do is just sit and hope that our team is able to avoid having their season torpedoed by injury.
J: Jimmy Garoppolo
His name might be damn near impossible to spell without assistance, but what's easy to pin down is the dude's potential. Once he took over the starting gig for the 49ers last year, the team rattled off five wins. Jimmy G completed over 60% of his passes, threw for 1,500 yards and seven touchdowns and broke a bajillion hearts along the way. The one-time heir apparent to Tom Brady in New England now looks like the one to help pull the 49ers out of the abyss and back into relevance.
K: Kick Returns
I love kick returns. I think that when a dude catches a kick off and starts to show signs of possibly making it to the end zone or at the very least making a break for it, it's one of the most exciting parts of the game. A couple years ago this part of the game was neutered some as rules were put in place that ended up resulting in the majority of the kick offs sailing out of the back of the end zone. Now different rules have been put in place; rules that are expected to breathe some new life back into the old kick return game.
L: LIII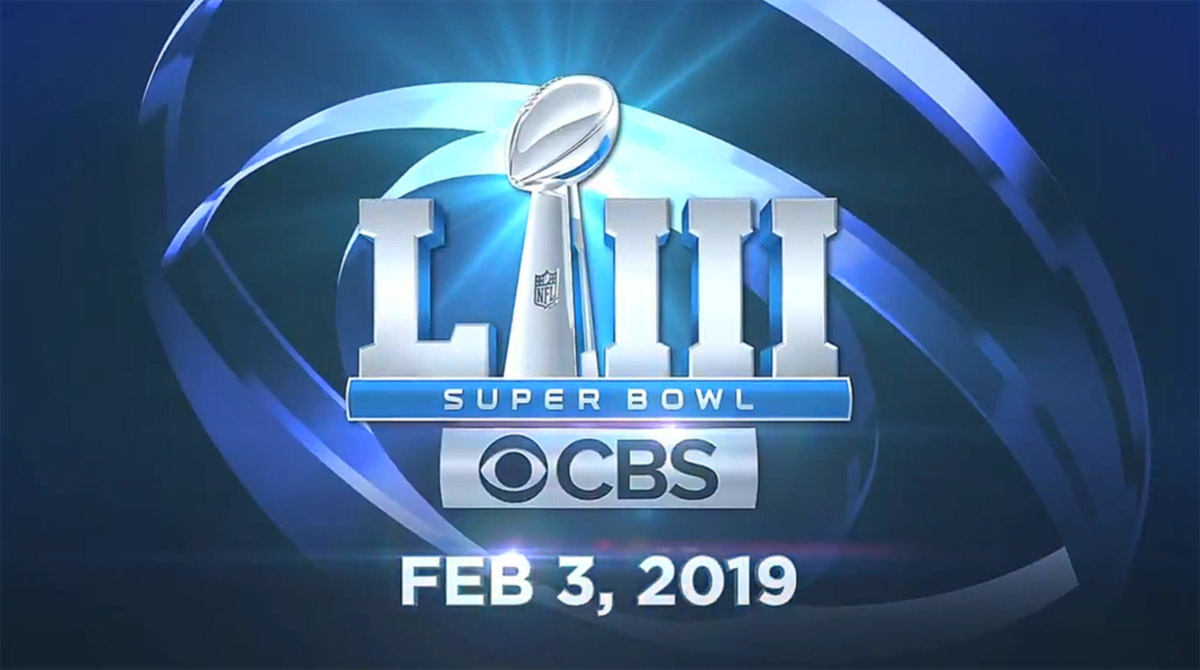 Super Bowl 53 is back in a warm weather city as this year it's Atlanta. Could the Falcons be the first team ever to make the Super Bowl a home game? Yeah, sure. Maybe.
M: Mahomes
The Kansas City Chiefs sent Alex Smith packing this offseason and as a result, have turned the team over to second year quarterback Patrick Mahomes. Chiefs' coach Andy Reid has a long history of turning quarterbacks into studs and a lot of football folks think Mahomes could be the next dude to benefit from playing under Reid. He'll have no shortage of playmakers around him, with Travis Kelce at tight end and Tyreek Hill on his side.
N: New Orleans Saints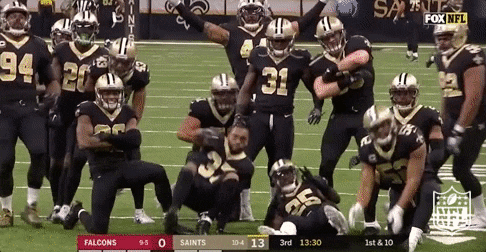 This has to be it for them. Drew Brees isn't getting any younger and it's not as if they have drafted someone to replace him. They had a good run. They won a Super Bowl and became relevant, something they weren't before Brees showed up. If this year isn't their last hurrah, then it's the year before the year that is their last hurrah. Hey, it was fun while it lasted.
O: Odell Beckham Jr.
Dude wants to get paid. The Giants are reluctant to him pay him or at least pay him as much as he wants to get paid. Last week there were reports that a deal between Beckham and the team was close, but until handshakes are exchanged, contracts signed and photos are taken, the Giants will be potentially dealing with an unhappy wide receiver, which studies have shown are notoriously caustic players to have hanging around a locker room.
P: Patriots
The Patriots have won the AFC East every year since 2001 with the one exception being 2008, when Brady was knocked out for the year in week one. Let's be honest, there's no indication that this year that will change. The Bills look like a mess, the Dolphins are dumpster fire that occasionally tricks people into thinking they are legit and the Jets are the Jets. Barring something totally nuts happening, the AFC East will once again belong to the Pats.
But beyond that? It's a little less certain. The Pats have lost about a receiver a week so far this preseason, the lingering nightmare of their defense's performance in Super Bowl 52 still remain and you know, their quarterback is 41 years old. It wouldn't be surprising if they ended up representing the AFC in Atlanta come February, but every couple of years, the Patriots' dynasty has a reset year. This could easily be one of those years.
Q: Quinn
As in Dan Quinn, the head coach of the Atlanta Falcons. I personally don't trust the Falcons, but Sports Illustrated apparently does, as they have them predicted to win this year's Super Bowl.
R: Rodgers
Aaron Rodgers was knocked out in week six last year after he broke his collarbone. He attempted a comeback. That lasted a week. Rodgers was then placed on the injured reserve and his season, just like his relationship with Olivia Munn, was over. But now he's back and despite losing his favorite target Jordy Nelson to the Raiders, is looking to pick up where he left over in 2017, when the Packers were 4-2 before he got injured.
S: Saquon Barkley
My buddy is a huge Giants' fan and early on in the preseason, with Barkley giving Giants' fans the vapors already, I asked him if he had at least considered renaming his four year old son Saquon.
Already did, he replied.
T: Two-Point Conversions
NFL teams should do this every single time they score. I don't care how good your kicker is or how bad your offense may be. Do it. Even if your move is to just try a QB sneak, do it. It's exciting. It's fun. It's so much better than just trying for an extra point. Even a team's kicker would admit this is true.
U: Undefeated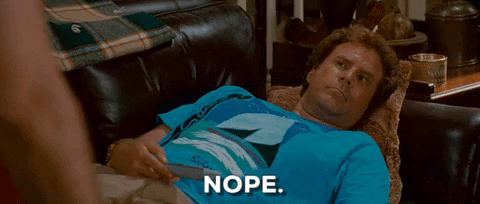 Will a team go undefeated this year? Well, the last team to do it was the Dolphins in 1972 and the last team to almost do it was the Patriots in 2007. I'm going to say that it's probably not going to happen this year.
V: Vikings
Minnesota made the NFC Championship Game last year after their unbelievable last-second win versus the Saints. Unfortunately they couldn't keep the momentum going as the Eagles easily took care of business to advance to the Super Bowl. They responded this offseason by signing quarterback Kirk Cousins to replace Case Keenum. Their stud running back Dalvin Cook is healthy again and they have a formidable receiving duo in Stefon Diggs and Adam Thielen. Also, their defense is a beast. Unless they're ravaged by injuries, plagued by lackluster play or just have one of those seasons from hell, the Vikings will almost certainly be there right alongside the Rams, Packers, Falcons and Eagles as favorites to win the NFC and even the Super Bowl.
W: Wentz
When Carson Wentz was injured and ruled out for the season last year, it was hard not to feel bad for Eagles' fans. Finally they had experienced hope, pure hope. Eagles' fans knew disappointment and they knew heartbreak, but in 2017, they began to know hope. And then it was ripped from them and they were left to fall back into their now all-too familiar cocoons of despair.
Of course you can't feel too bad for Birds' fans because you know, they won the Super Bowl. Wentz will be back this season and while it may take him a few games to get his legs back, if last year was any indication, the Eagles have a solid young quarterback they can build around.
X: Factors
I'm talking about dudes like Tyreek Hill of the Chiefs and Alvin Kamara of the Saints; players who can do a little bit of everything on offense. Gronk could be considered an X factor. Because what is an X Factor? An X Factor is a wild card, something that can't be accounted for. Weather is an X Factor, especially in cold weather cities, and unfortunately the president is an X Factor, because as his troubles continue to grow, he'll be looking to focus his attention on a fight he'll feel he can easily win.
Young Quarterbacks
The NFL is nearing a turning of the page, as it's older quarterbacks, guys like Brady, Drew Brees, Philip Rivers and Aaron Rodgers are much closer to the ends of their careers than the beginning of them. They have all been hallmarks of the league for the past decade and with them leaving soon, the NFL is going to need new guys to step in and try and take their place. Some of those guys could be the quarterbacks entering the league this year.
Buffalo has Josh Allen, the Jets have Sam Darnold, the Ravens have Lamar Jackson, the Browns have Baker Mayfield and the Cardinals have Josh Rosen. They join second and third year guys like Garappolo, Watson, Wentz and Jared Goff of the Rams. We just need a few of them to succeed. Not all of them. Just a couple of them. Odds seem pretty good that it'll happen.
Zero Wins
Last year the mighty Cleveland Browns went 0-16. Will they repeat that impressive feat again this year? Eh, probably not. But could another team? Always possible!
---
---
Categories: Sports